PCs cleared of making racist comments may face disciplinary action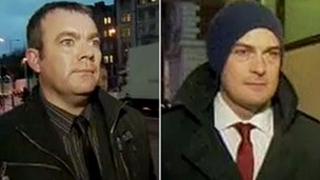 Scotland Yard is considering whether to take disciplinary action against two Metropolitan Police officers cleared of making racially offensive comments.
PC Kevin Hughes, 36, and PC David Hair, 42, had denied using threatening words or behaviour and racially-aggravated harassment while on duty this year.
The police watchdog said its investigation found the PCs may have a case of gross misconduct to answer.
Both officers were suspended in April following the allegations.
Professional standards
Following the outcome of the criminal trial on Thursday, the Independent Police Complaints Commission (IPCC) urged Scotland Yard to "seriously consider" its findings in relation to the case.
IPCC commissioner Mike Franklin said: "The IPCC's investigation into alleged racist comments made by PCs Hughes and Hair concluded in June when we passed our findings of potential gross misconduct to the Metropolitan Police Service (MPS) for their consideration.
"I urge the MPS to give serious consideration to the issues raised in our report.
"Any misconduct hearing will need to determine whether the comments are a breach of the professional standards expected of police officers."
'Discussing evolution'
Westminster Magistrates' Court heard PC Hughes, of Brentwood, Essex, admitted saying a black man looked like a monkey, but said he was discussing evolution.
Meanwhile PC Hair, of Epping, Essex, was accused of saying a black woman colleague might "go home to cook bananas".
Finding both men not guilty of all charges Senior District Judge Howard Riddle said PC Hughes' language had been "unacceptable and offensive" but did not amount to a crime.
Referring to PC Hair, the judge said: "While the insulting nature of the comment seems obvious to many, I believe it was not obvious at the time to PC Hair.
"A person is only guilty of a Section Five offence if he intends his words to be threatening, abusive or insulting or is aware that it may be threatening, abusive or insulting."