Rain takes fizz out of English wine industry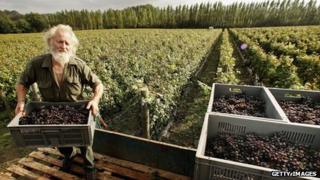 It has been tipped for great things due to global warming.
But one of England's growth industries has fallen victim to more traditional British weather - the rain.
Wine production has dropped by more than a third in some parts of the country.
And one of England's most successful sparkling wine vineyards scrapped its harvest completely in order to sustain the "quality" of its brand.
So, in the run up to Christmas has the fizz been taken out of the English wine industry?
'Grounds of quality'
Wine has been produced in England since the Roman occupation, but for much of the 20th Century winemaking was seen as a hobby industry.
However, following a series of international competition wins, where English sparkling wines beat others from around the world - including some from the Champagne region in France - interest has surged.
One of these award winners, Nyetimber, based in West Chiltington, Sussex, took the decision not to harvest its grapes this year.
"It was a hard decision - a wine maker gets about 30 chances in their lifetime to make a vintage," said Christian Holthausen, from Nyetimber.
"I'm only aware of a couple other vineyards in the world that have ever done this."
The vineyard said it did not think its decision would damage the reputation of the English wine industry.
"The decision was made on the grounds of quality," he said. "I think it's had a positive impact on English wine - it proves we're serious."
Julia Trustrum Eve, from English Wine Producers, which markets the industry, said: "We have enormous sympathy for Nyetimber, but because they're such a leading brand it did lead people to draw [negative] assumptions, which weren't the case at all."
She said the harvest had "undoubtedly" been hit, with wine production dropping by 30% in the east of England and more in the west.
However, she said the quality of the grapes that were harvested had been exceptional.
This was echoed by Sam Lindo, from the award-winning Camel Valley vineyard, in Cornwall.
"So many people have been pessimistic about this year's harvest," he said.
"Production has been down, but the quality of what we've produced has been very high."
The key period for winemaking in England is when the vines flower, but the cold and wet weather results in small and unformed bunches of grapes.
Mr Lindo said: "In beautiful sunshine all the flowers turn to grapes and you make a lot of wine.
"This period is normally during the Wimbledon fortnight. But If you have a bad harvest you have to keep calm and carry on for next year."
'Disastrous'
2012 has been a big year for British wine.
Nyetimber was served aboard the Queen's Jubilee barge and Camel Valley was used at the reception for dignitaries at the Paralympic Games.
However, wine expert Malcolm Gluck said despite wine producers saying otherwise, the weather has been a disaster.
"If you have two or three vintages like this it will be a disaster and drive people out of business," he said.
He added that the "tiny" wine industry in England had been overhyped and wine makers were either brave or foolhardy.
"A few people have made a few good bottles in a few good years," he said.
"But it's an insignificant proportion compared to the number of good ones coming out of Champagne."