MoD announces £46m Foxhound contract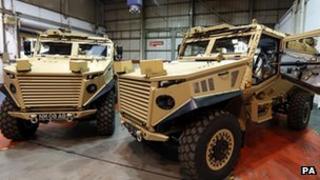 The Ministry of Defence (MoD) has announced a £46m contract to buy a fleet of lightweight armoured vehicles.
The deal will see 51 new Foxhound vehicles, currently used by troops on patrol in Afghanistan, built by General Dynamics Land Systems (GDLS).
Defence Minister Philip Dunne made the announcement during a visit to the company's factory in Telford.
The contract is expected to safeguard some 500 jobs in Telford and the company's Warwickshire headquarters.
Paul Rule, spares general manager at the GDLS base in Hortonwood, Telford, said the contract would secure the plant for at least the next two years.
He said the factory, which supplies spares for the Foxhound vehicles, was planning to increase its workforce by 20% over the same period.
F1 engineers
More than 300 Foxhounds are already in service with the Army and were first deployed to Afghanistan earlier this year.
Designed in Leamington Spa, the vehicles took only 40 months to develop, from conception, through to their introduction on the battlefield.
They replaced Snatch Land Rovers, after criticisms over their level of protection against roadside bombs led some soldiers to dub them "mobile coffins".
Capable of driving at speeds of up to 80mph, the Foxhound was partly designed by Formula 1 engineers and incorporates a V-shaped armoured hull, designed to safeguard troops from roadside bombs.
Mr Dunne said the vehicles had "the flexibility and adaptability to operate in a wide variety of environments, providing capability for the Army well into the future".