Corby's new MP makes his maiden speech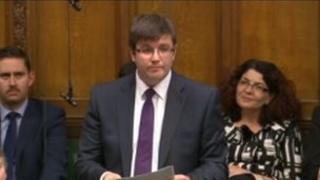 In 1905 a group of striking boot-makers made the news when they walked from Raunds in Northamptonshire to parliament to protest at how little they were being paid.
A large crowd welcomed them to Parliament Square. A deputation was allowed to meet MPs. According to The Times newspaper they were then allowed into the Strangers' Gallery where a small disturbance occurred.
The spirit of the Raunds strikers 107 years after their protests was invoked by the new MP for Corby, as he made his maiden speech in the House of Commons.
"I can assure the descendants of those Raunds marchers that I will continue their campaign for fair wages," Andy Sawford said, to cheers from his Labour colleagues
"I urge all parts of the public sector and the private sector to consider the case for a living wage of £7.45 an hour. Too many people in my constituency are being squeezed by rising food and fuel prices."
Mr Sawford made it clear that jobs and supporting local industry would be his main priorities as an MP.
He said Corby had one of the country's worst problems with youth unemployment, he attacked job agencies which recruited overseas rather than at home and he talked about the "great hardship" caused in the 1980s when thousands of workers - including his father - lost their jobs at the local steelworks.
A childhood experience
"The experience shaped my childhood," he said. "Dad went to college to study while my mum worked in a leather goods factory to pay the bills. My dad went on to become MP for Kettering from 1997 to 2005 and I'm very proud to continue my record of public service."
The steelworks are still important to Corby and Mr Sawford supported the Tata Group company's call for lower energy prices and greater investment in infrastructure. He also said he'd fight hard for public services, including the future of Kettering Hospital.
Corby, he said, was proud of its Scottish connections. Fotheringay in his constituency was where Mary Queen of Scots was executed in 1587 but things had improved since then. "We believe Scotland and England are better together," he asserted.
It is always traditional for an MP in their maiden speech to praise their predecessor. To chuckles, Mr Sawford said that Louise Mensch had "served in her own unique style" but he commended her for speaking up for the role of women in public life and for championing the local media.
As for her sudden departure, he remarked: "As I know already, combining the role of MP with family life is challenging but in my predecessor's case there was also the matter of an ocean between those two parts of her life. I wish her and her family well in the future."
Shortly after we tweeted that comment, Louise Mensch replied: "Very kind of him - I wish him well representing Corby."