Footballer Rob Hughes main attacker identified in Greek court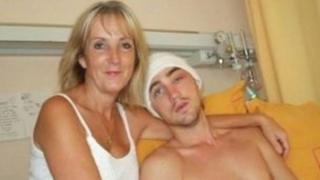 One of six men accused of beating a former Oxford United footballer into a coma has been identified in court in Greece as the main offender.
Rob Hughes, 31, of Croydon, south London, has no memory of the assault in Crete in June 2008, but an eyewitness identified Joseph Bruckland, 22.
Mr Bruckland, from Hookwood in Surrey, and five other British men deny charges of grievous bodily harm.
Mr Hughes suffered severe memory loss and did not remember his family.
Prosecution witness
He was left with brain damage after being beaten and left for dead outside a nightclub in Malia.
Neil Philippart, who was called as a witness by the prosecution, told the court he saw Mr Hughes being hit with a bottle and fall to the ground.
Mr Philippart was asked by the judge to identify which of the defendants struck that blow.
He turned round, looked at Mr Bruckland and said it was him. Mr Bruckland shook his head when the allegation was made. He will be called to give evidence later.
The other defendants are Curtis Taylor, Daniel Bell and Sean Branton, of Horley; Surrey; Benjamin Herdman, of Worth, West Sussex; and George Hollands, of Reigate, Surrey.
The trial in Heraklion, Crete, continues.