PC Ian Dibell: Essex Police sorry for pension error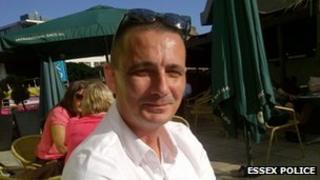 A police force has apologised to the family of a killed officer after a confidential discussion about his pension details was made public.
Father-of-two PC Ian Dibell, 41, was killed in Clacton while off-duty, on 9 July. His suspected killer, Peter Reeve, shot himself on 10 July.
His pension was discussed at an Essex Police Authority meeting held in September and published in the minutes.
Essex Police said it had apologised for the error.
Although PC Dibell was off-duty, the police authority agreed that he was acting in his duty as a police officer when he intervened in a row near his home.
He died from a single bullet wound.
Mr Reeve then disappeared, sparking a manhunt, and was seen shooting himself in a cemetery in Writtle the following morning.
"Having regard to the Police (Injury Benefit) Regulations 2006, it was determined that PC Ian Dibell was acting in accordance with his duty as a police officer to preserve life and was killed whilst on duty," a police authority spokesman said.
"The information was inadvertently published in an Essex Police authority finance and audit committee paper."
Essex Police has previously paid tribute to PC Dibell's courage and said he would have known he was entering an "extremely deadly situation".
Hundreds of people, including Home Secretary Theresa May, attended his memorial service in August.
A memorial fund has been set up to create a permanent memorial and to support PC Dibell's family.
His girlfriend, Louise Lilley, is a police community support officer and his brother, Paul, is a detective inspector with Essex Police.
Ms Lilley was unavailable for comment.