Crossrail bridges in Slough and Hillingdon to be replaced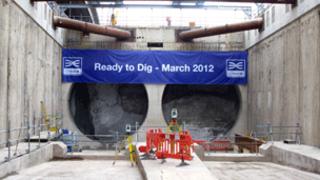 Work has started on replacing four bridges in preparation for the new electric Crossrail trains.
Starting in 2018, Crossrail will link Maidenhead, Berkshire, in the west to Shenfield, Essex, and Abbey Wood, south-east London, in the east.
Two bridges in Slough and two in Hillingdon have to be replaced to provide clearance for overhead electric equipment.
Work sites have been set up with bridge removal starting over Christmas.
Network Rail will complete the work over Easter 2013 on Middlegreen Road bridge and Trenches bridge in Slough as well as Old Stockley Road bridge and Horton bridge in Hillingdon, west London.
Earlier this month, Network Rail installed a temporary footbridge next to Middlegreen bridge, which will maintain pedestrian and cycle access.
Jorge Mendonca from Network Rail said: "The work we are undertaking on bridges across the western section of the route will not only enable new longer Crossrail trains to operate but is also an essential part of the programme to electrify the Great Western main line.
"We've spent months preparing for this to ensure we complete the work with the least possible impact on residents."