Remarkable reconciliation in Grayrigg crash aftermath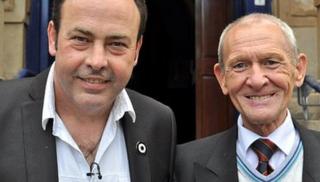 I don't think I've seen anything quite like it. By rights these two individuals should be steering well clear of each other, instead they're sharing a pint.
On today's Inside Out you'll see the incredible act of forgiveness borne out of the Grayrigg train crash in Cumbria.
A passenger, Margaret Masson, died and 86 others were injured after a train ran over faulty points and hurtled down an embankment.
When Dave Lewis heard exactly where the Virgin train had derailed, his heart sank. He knew instantly that the finger of blame would point at him.
The previous weekend Dave had agreed to do the work of two people.
As well as his own job as overall safety manager of that part of the West Coast Main Line in Cumbria, staff shortages meant he was combining his normal general inspection with another more detailed one.
The two inspections mostly overlapped the same stretch of track. However he didn't go as far as the faulty points.
If he hadn't made that mistake, Margaret Masson might still be alive.
When her son George went to the inquest his emotions were running high.
He had heard the points hadn't been inspected properly and when the man responsible came to give his evidence, he was angry.
Before Dave had even uttered a word at the hearing George wanted to take his fury out on him.
He told me: "I wanted to rip his head off his shoulders."
Change of heart
But George was about to have an unexpected change of heart. Dave's testimony turned everything on its head.
It emerged Dave had kept all his emails to the bosses at Network Rail warning that staff shortages meant safety was being compromised and that a disaster was just waiting to happen.
For George the blame now clearly lay elsewhere.
He went out onto the steps of the inquest hearing to declare to the world's press that, in his eyes, Dave Lewis should be praised not demonised.
As a Scottish former soldier there could be no greater show of that forgiveness than to invite Dave to his ex-servicemen's club in Glasgow to share a pint.
A year on from the inquest the time was right and in another exclusive report Inside Out followed both men as they prepared for their remarkable reunion.
You can see more on Inside Out North East & Cumbria and North West at 1930 GMT, Monday, 29 October 2012
Could you be as forgiving? Let me know - just add your comment below.
Also on tonight's show:
The arguments for and against a new waste incinerator in North Yorkshire.