Police elections: What do PCs think of PCCs?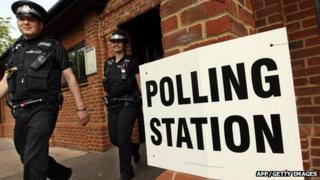 The election of 41 police and crime commissioners (PCC) in England and Wales has been described as the biggest shake-up to policing in years.
Media coverage and candidate efforts have stepped up ahead of voting on Thursday.
But while the public have been invited to engage in the debate on social networking sites and politicians and academics have given their thoughts on the new way of setting local policing priorities one voice has been absent.
What do police officers think about the changes to the way their forces will be run?
Frustrated voters
There are 134,101 full-time equivalent officers in the 43 forces in England and Wales, according to the Home Office.
But you will struggle to find out about what they think about the concept of PCCs.
The Association of Chief Police Officers (ACPO) has agreed guidelines which have been circulated to all forces about how the police can interact with PCC candidates.
The Home Office and many police authorities have also issued guidance which along with ACPO's advice is designed to avoid the police unfairly influencing the electorate during the pre-election period.
But according to one former officer the restrictions have left many officers feeling frustrated they cannot engage as fully as any other voter.
Mike Pannett, who has written several books about his time as a serving officer, left the police in 2007 after 10 years with North Yorkshire Police and before that 10 years with the Metropolitan Police.
He said: "I think its a disgrace that they [police officers] can't be involved in the process.
"How are you supposed to get a balanced view from the police about how they think they operate?
"PCC candidates are allowed to look around police stations but they are shown around by someone from the press office.
"They might look at the mechanics of the control room but they can't ask the officers' opinions or find out their feelings. It's been very draconian."
Sir Hugh Orde, president of the Association of Chief Police Officers (ACPO), said although chief constables could not comment on changes to how the police are governed they had contacted the Home Office over operational issues.
He said: "The only thing we have sought is clarity, which has been quite hard work, we have been seeking clarity as to how local PCCs will deal with national issues such as firearms, terrorism and public disorder.
"It is essential that all forces work together at times of emergency. Many forces train far more officers in public order than they need in their area to contribute to a national emergency.
"We want to make sure the people who stand understand these complexities."
He added he also hoped the PCCs would improve partnership working between different agencies.
"The 17 people on the police authority that the chief constable used to work with and who held him to account will be replaced with one," he said.
"That one person will not only hold the police to account but also be responsible for driving partnerships forward and banging heads together so that all agencies are brought together to fight crime."
A more visible form of accountability is one of the primary aims of the new role.
Ian Edwards, chairman of the West Midlands branch of the Police Federation, said: "The police authorities were not representative of the community being policed, no one knew who they were.
"Their relationship with the chief constable was good but we (the rest of the police) didn't have a lot to do with them.
"If you asked a member of the police force who was on the authority they would struggle to name anyone."
Single issue
He said for a lot of officers the biggest concern was that someone could get elected on a claim which was unfeasible.
"We are mindful that someone might (be elected) on a single issue like 'I'll get rid of all speed cameras'," Mr Edwards said.
He added another concern was how the balance between national and local policing priorities could be struck.
He said: "If the current government is issuing policing priorities for PCCs but the PCC is not a member of that party what benefit is there for them to conform?"
Overall, he would like the new role to take into account how the police themselves think their forces should be run.
He said: "We hope the PCCs will interact with the Police Federation and police officers and want to know about things from the shop floor because the best ideas don't necessarily come from the top."