Telford town centre 'in bottom place' over independent units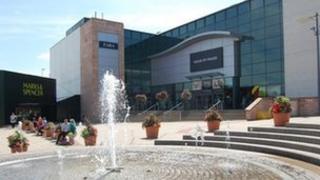 A Shropshire town has the lowest percentage of independent retail and leisure outlets among Britain's town centres, new figures show.
Statistics released by the Local Data Company (LDC) showed 23.6% of Telford's town centre outlets were independents.
Cowley, Oxford, had the second lowest figure, 24%, while Solihull in the West Midlands was third, with 26.1%.
LDC, which surveyed between January and June, said 67% of Britain's retail and leisure units were independents.
'Considerable effort'
Shropshire Chamber of Commerce managing director Richard Sheehan said the news did not "come as a surprise because the nucleus of Telford town centre is the shopping centre itself".
He added: "The majority of these larger facilities [shopping centres] do encourage large organisations to site themselves there because they tend to [have] larger floor spaces that are more likely to be filled by larger organisations.
"Having said that, there is a considerable effort by the shopping centre to encourage more independent retailers to offer a unique offering in the market place of the shopping centre."
Telford Shopping Centre has not commented.
Christine Orford, 53, manager of Christine's Florist in Market Street, Oakengates, Telford, said: "If they made [the rents] right, you'd get your normal everyday high street shop going into the town centre.
"I would go up there myself... [But] it's out of your league."