Slippers reduce falls in Norfolk and Suffolk hospitals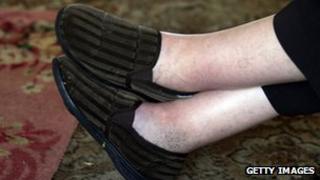 Free slippers given to emergency patients transferred to hospital units across Norfolk and north Suffolk are helping to reduce injuries and falls.
A six-month pilot scheme at three units for patients with immediate mental health issues saw a 28% reduction in falls after the slippers were provided.
Norfolk and Suffolk NHS Foundation Trust started the scheme over concerns a lack of footwear caused accidents.
Physiotherapist Loretta Burgess said the results were "incredible".
"Some people may come into our wards as an emergency with no footwear or ill-fitting footwear and it is a few days before relatives can bring them their own clothing," said Ms Burgess.
Falls were monitored for three months before the free slippers scheme was introduced at Hellesdon Hospital in Norwich, Carlton Court in Lowestoft and the Fermoy Unit in Kings Lynn, all with units for patients with mental health issues.
Sixty four falls were recorded during the first three months, compared to 46 in the three months after the slippers were given out.
There was a range of slippers and each pair cost less than £6.