East Anglia and West Country brothel ring - four sentenced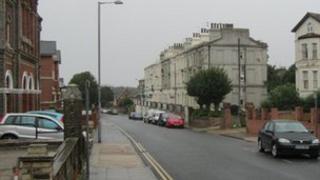 Four people have been sentenced for helping to run brothels in East Anglia and the West Country.
A multi-police force operation raided brothels in Ipswich, Norwich, Colchester, Swindon, Bristol, Newquay and Tedburn St Mary in Devon in 2010.
Three women were given unpaid community work orders, while a man received an eight-month suspended jail sentence at Ipswich Crown Court.
Two others involved in running brothels will be sentenced next month.
Raids were carried out in July 2010 at premises at London Road, Foxhall Road and Firmin Close in Ipswich; Avenue Road in Norwich; George Williams Way in Colchester; Longstock Close in Swindon; Bedminster Road in Bristol; Bay View Terrace in Newquay and at Tedburn St Mary in Devon.
The investigation was led by Suffolk Police.
Przemyslaw Wegrzynowski, 41, of London Road, Ipswich, who admitted conspiracy to manage a brothel or assist in the management of a brothel, was described in court as a driver who ferried women between airports and brothels.
'Weakness of mankind'
The three women were found guilty of the same offence by a jury earlier this year.
Eliza Bryll, 24, of Wells Crescent, Chelmsford, was ordered to carry out 120 hours of unpaid work.
Magdalena Pacula, 23, of The Hawthorns, Stroud in Gloucestershire, and Jagoda Kukielka, 26, of Notley Road, Braintree in Essex, must complete 100 hours of unpaid work.
Sentencing, Judge David Goodin said the operation covered a wide geographical area which would have netted "significant" financial gains.
"This relied upon the exploitation of vulnerable young women as well as upon the weakness of mankind," he said.
A Suffolk police spokesman said after sentencing: "The modus operandi was to rent a small flat or house on a short-term lease and advertise massage or escort services in local newspapers and on the internet.
"They're anti-social and in the middle of residential areas with men coming and going at all hours with a large number of women brought over from Poland and moved between brothels."
Alexsander Sochacki, 41, of Oakley Road in Harwich, Essex, and Aleksandra Bryll, 29, of Baddow Road in Chelmsford, Essex, are due to be sentenced for the same offence at Ipswich Crown Court next month.