Paralympian who lost legs in blast 'driven' by injuries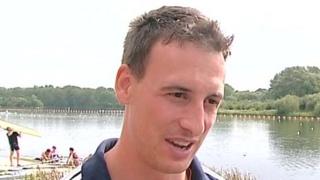 A Hampshire-based Paralympic rower, who lost both his legs in a bomb blast in Afghanistan, says his injuries made him "more driven to achieve".
Capt Nick Beighton stepped on an improvised explosive device in 2009.
He and his mixed double scull partner Sam Scowen were the first Great Britain crew to qualify for the 2012 Games.
The serving captain with the Royal Engineers said: "It gives you a sense of perspective and the importance of making the most of every opportunity."
He added: "If anything, it was actually going to drive me on to achieve and to do more in my life."
Capt Beighton, 30, who is originally from Shrewsbury, Shropshire, but now lives in Yateley, and trains at Caversham, Berkshire, described taking part in the Paralympics as "fantastic".
He added: "It has been such an emotional three years, from serving in Afghanistan, to being injured to being in hospital to crawling back to full health and recovery and this is the reward for that commitment and that will to do something."
Capt Beighton and Ms Scowen qualified for the Paralympics in the World Rowing Championships on Lake Bled in Slovenia, in 2011.
They will compete in the heats of the mixed double sculls at Eton Dorney, the Olympic and Paralympic venue in Buckinghamshire, on 31 August.
Capt Beighton first sculled at Guildford Rowing Club in 2010 as part of a rehabilitation programme at the Defence Medical Rehabilitation Centre in Headley Court in Epsom, Surrey.
Before suffering his life-threatening injuries, he said he had never seriously considered rowing and had preferred climbing and mountaineering.