Dartford Crossing journeys fall as congestion highlighted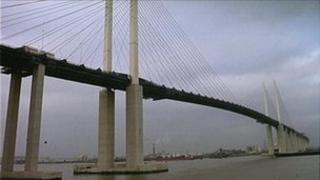 The number of drivers using the Dartford Crossing has fallen - at a time when calls have been made for a new crossing to combat congestion.
Figures from the Highways Agency show that in 2005-06, nearly 54.5 million vehicles used the bridge and tunnels between Kent and Essex.
The number has steadily dropped to 50.9 million in 2010-11.
The AA has backed plans for a new crossing but opponents have said the case has not been proved.
Paul Watters, from the AA, said the existing road was still handling much more traffic than it was meant to.
He said: "Even though the traffic's down we saw 257 days in 2010 when the crossing was running over capacity - it was carrying more than it was designed for.
"That's what causes the problem - it causes huge congestion and we have got to do something about it."
'Green belt'
The cost for cars to use the crossing is due to rise from £1.50 to £2 in October.
This will increase to £2.50 in 2014 when the barriers are removed and number plate recognition technology will be used instead of traditional toll booths.
John Burden, leader of Gravesham Borough Council, said it was worth waiting until then to assess whether a new crossing was needed.
"There's no proven need for a second crossing and I'm certainly against any crossing coming through Gravesham because of the destruction of the green belt," he said.
"If they want to spend billions of pounds on a new bridge or a new tunnel that's going to destroy the environment of the local people... let's prove we need it.
"The way to prove it is to remove the [toll] barriers."
The Dartford Crossing includes two road tunnels under the River Thames and the Queen Elizabeth II Bridge.