Jack Taylor funeral held in Wolverhampton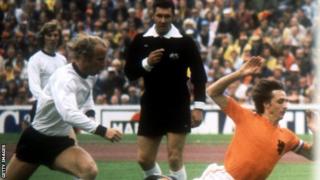 The funeral of former World Cup final referee Jack Taylor has taken place in Wolverhampton.
About 200 people gathered at St Peter's Church in the city centre.
The Englishman became the first referee to award a penalty in a World Cup final when he took charge of West Germany's 2-1 win over the Netherlands in 1974.
Taylor, who officiated in more than 1,000 football matches, died last month at his home in Shropshire. He was 82.
The congregation included ex-footballers John Richards, Frank Clark and Sir Trevor Brooking and former World Cup referee David Ellery, who is now president of the Referees Association.
Sir Trevor said: "I knew Jack from work we did with The FA and England Schoolboys, he was always good company.
"He was hugely respected in all areas of the game. Jack is up there with the best referees of all time.
"We've named a referees room at the new football centre in Burton after him. He knew that before he died and he was very chuffed."
Mr Taylor, who had a spell as commercial manager at Wolverhampton Wanderers in the 1980s, also had a butcher's shop in the city, in Staveley Road, Whitmore Reans.
He officiated in more than 100 internationals and refereed cup finals in Europe, South America, South Africa and China.
Arriving at the church, former Wolverhampton Wanderers player Richards said the respect he received from every player was "unbelievable".
He said: "It's because he wasn't arrogant, he was genuine, honest and straight to the point - and that's the way he lived his life."
Mr Taylor, who was inducted into Fifa's Hall of Fame, also served on the Football League's referees committee.
Football League chairman Greg Clarke said Mr Taylor "set the benchmark for refereeing, not just in this country but across the world".
Premier League chief executive Richard Scudamore described him as one of English football's "finest ambassadors".