M54 closure to allow i54 bridge work to start
5 August 2012

From the section

England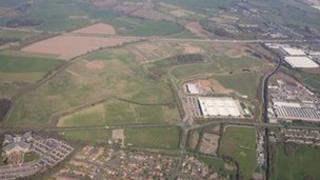 A section of the M54 motorway closed over the weekend to allow work to start on access to a new business park.
The i54 business park is being built west of junction two of the M54, on the Staffordshire-Wolverhampton border.
Jaguar Land Rover (JLR) is developing a £350m plant on the site, which it said would create up to 750 jobs.
The westbound carriageway of the M54 closed between junctions two and three from 22:00 BST on Saturday until 06:00 BST on Sunday.
Diversions are in place along the A449, A5 and A451, Staffordshire County Council said.
The closure is designed to allow sections of a 240-tonne bridge to be delivered to a site west of junction two.
Once assembled, the bridge is expected to be lifted into place over the motorway during overnight closures, scheduled for 22 and 29 August.
The i54 business park is a joint project between Staffordshire County Council and Wolverhampton City Council, which are each investing £20m in the scheme.
JLR said its new plant would work alongside nearby factories in Solihull and Castle Bromwich.
Aerospace firm Moog and laboratory testing company Eurofins have already moved on to the i54 business park.
The bridge is part of plans to create a new slip road from junction two to access the site.
It will replace an existing bridge at Middle Lane, which provides access to wastewater treatment works and is also used as a footpath and bridleway.