Is HS2 steaming ahead or in danger of going off track?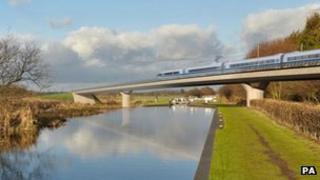 What's really going on with HS2? The high speed rail debate continues to hot up this week.
The admission this week by HS2 Ltd, the 'arm's length' company managing the project, that they overlooked more than 400 responses during last year's consultation process means the whole enterprise could be mired in legal challenges for years to come.
The government will aim to maintain their parallel track whatever happens in the courts.
They will continue working through fiendishly detailed analysis, including the environmental impact, in order to have the enabling legislation ready for next year's Queen's Speech.
They also promise the delayed compensation payment arrangements anxiously awaited by homeowners on the route will be published later this year.
Homeowners say it's already too late to stop their properties from being blighted.
Steaming ahead?
All this on top of a spate of reports in sections of the press hostile to HS2 casting so much doubt on the project that HS2's chief executive Alison Munro felt it necessary to tell MPs recently that it was still "full steam ahead".
Over 500 consultants were beavering away as she spoke.
Fathoming out what's really going on is something akin to of 'Kremlinology' during the Cold War.
This is politics at its most arcane and obscure.
Reports that HS2 was being opposed even within the Cabinet should surprise no one.
The Welsh Secretary Cheryl Gillan, MP for Chesham and Amersham, has never made any secret of her hostility to it.
But she is widely expected to leave the government in a forthcoming reshuffle.
More significant is the scepticism of the Treasury in general and, I am told, of the Chancellor George Osborne in particular.
You might expect the keepers of the public purse to agonise over the £33 billion cost of the scheme.
But they are equally exercised by the scaling-back of the so-called 'multiplier effect'.
Their calculation that every £1 invested in HS2 would generate not £2.40 for the economy, as originally forecast, is now exactly half that figure.
Whatever next?
The biggest clues could come soon after the Olympic Games when that Cabinet reshuffle is confidently predicted by Westminster-watchers.
Promotion for the Transport Secretary, Justine Greening, would be seen as clearing the way for the government to make another U-Turn, this time over its opposition to a third runway at Heathrow.
Her Putney constituency borders the airport and she has long advocated high-speed rail as a way of reducing the number of domestic flights, so easing the pressure on runway capacity in the South East.
Expanding Heathrow would limit significantly the rationale behind HS2.
But other important elements of the business case would remain; not least the capacity issue, as anyone who has stood for hours on end during peak time services to and from London will confirm.
Railway experts have debated for years whether or not less expensive make-do-and-mend strategies including Rail Package Two could deliver a safe, efficient and affordable alternative to the big bang of high-speed rail.
Parliamentary mood swings
The Stop HS2 campaigners have convinced themselves that political support for the project is "crumbling".
They point to the recent findings of the Commons Public Accounts Committee that the first high-speed line linking London with the Channel Tunnel was continuing to fall short of business expectations.
But supporters of HS2 say a high-speed line connecting the capital with the Midlands, northern England and eventually Scotland rests on a different business model altogether, so the decidedly downbeat message from MPs on the select committee should be kept in perspective.
Labour, who initially championed HS2 while in government, now say they cannot make a "cast iron commitment" to it.
Nevertheless, this gigantic enterprise undoubtedly still commands the support of a broad, three-party consensus which is unusual in British politics.
The balance of opinions among individual MPs is much as it was two years ago.
'Dead duck'?
But if for any reason there is no mention of HS2 in next year's Queen's Speech there would be insufficient time for it to become law before the election.
There is a tacit acceptance at Westminster that were it not to be on the statute book by 2015 it really would be, as one Cabinet minister reportedly put it, "a dead duck".
Even if it goes ahead, it would still take many decades before the argument for and against the business case could be settled once and for all.
Supporters of HS2 point out that the original Victorian rail pioneers saw no great early returns on their investments.
And yet the evolution of Britain's modern industrial economy would have looked very different without them.
It's not easy being a politician, gazing into the future and learning the lessons of history at one and the same time.