Alcohol call-out burden to North East Ambulance Service
24 July 2012

From the section

England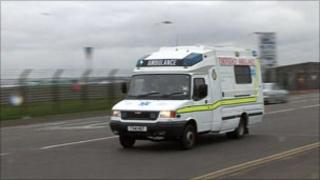 More than one in 10 ambulance call-outs over a year in the north-east of England were alcohol-related, a study found.
Of 300,000 emergency calls between April 2009 and March 2010, about 31,000 were for incidents where drink was involved, researchers found.
They said that meant a £9m cost to the North East Ambulance Service (NEAS).
The study was carried out by Newcastle University with NEAS and the North East Alcohol Office, Balance.
Eileen Kaner, Professor of public health at Newcastle University and an author of the research, published in the journal Alcohol and Alcoholism, said they found it was not just an issue for people in the 20-29 age group but and a large proportion of call outs were for people aged 30-59.
She said a big factor was people drinking at home before they went out and that minimum alcohol pricing should be looked at.
She also said crews were more likely to experience physical or verbal abuse when dealing with alcohol-related calls.
"Most of these cases of alcohol-related problems are preventable and it costs lots for the ambulance service to deal with them and that also diverts them from other pressing calls that they need to attend to," said Prof Kaner.
Paramedic Philip Liscombe said: "Whilst dealing with drunks I have had various events from being urinated on to having a fire lit in the back of the ambulance, a dog set upon me and various items thrown at me.
"We have also had equipment stolen from the vehicle on several occasions."