London 2012: Counterfeit Olympic flags seized at Heathrow
21 July 2012

From the section

England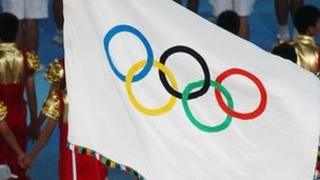 Customs officials have seized 10,000 counterfeit Olympic flags at Heathrow Airport.
The flags, which display the Olympic rings on a white background, could be sold for about £100,000, the Border Force said.
They were sent from China and were due to be delivered to an importer in Norwood, south London.
The importer of the flags is not thought to have been aware they were fakes.
The Border Force revealed its officers seized the flags last week.
Locog confirmed they were not official merchandise and they will now be destroyed.
Border Force Heathrow director Marc Owen said: "Counterfeiting is not a harmless crime - it is a huge criminal business estimated to cost the UK economy around £1.3 billion a year.
"For the gangs behind it, it is low-risk and high-reward.
"In the run-up to the Olympics we have been working closely with Locog to thwart those who would seek to illegally profit from the Games and protect UK consumers from the fakers."
Locog commercial director Chris Townsend said: "Fake products not only undermine our ability to raise the revenues needed to stage and host the London 2012 Games, but the fake goods themselves are likely to be of inferior quality."