Summer recess is no holiday for MPs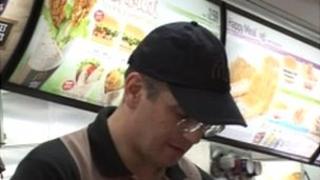 If you are an MP with a small majority it's always a good idea to keep your career options open.
Northampton North's Michael Ellis (majority 1,936) has plenty.
Last year he worked in his local supermarket and on a fruit and veg stall. This week he served burgers at his local diner.
Mr Ellis always likes trying out other jobs during the summer recess.
He believes it's a good way of meeting people and better understanding his constituency.
Reconnecting with voters
"It's an opportunity for me to live in the real world that MPs sometimes get excluded from," the Conservative MP explains, in between customers.
"This is not a gimmick, it's an opportunity for me to see what other jobs people in my constituency are doing."
No task was too menial for the MP.
He swept the floor, cooked the burgers, manned the drive thru' and wished lots of people a nice day.
The Commons is now in recess for seven weeks and it's a chance for MPs to have a bit of a holiday and reconnect with their constituents.
Dr Dan Poulter (Central Suffolk and North Ipswich) tells us he will be working in a local hospital - something he did last year.
Brandon Lewis, Great Yarmouth's Conservative MP, is going on a bus tour to speak to people in the far flung corners of his constituency.
And Matthew Hancock (West Suffolk) is training to take part in the first ever race involving amateur jockeys to be ridden on Newmarket's world famous July Course.
An accomplished rider, the race probably won't be a problem but losing 20 pounds in weight in 10 weeks might be.
Giving something back
Gavin Shuker (Lab, Luton South) is running a four week summer school for 20 young people who are interested in politics.
"Recess is an opportunity to give something back," he says.
"My 18-24 year olds will learn a bit about how politics work. We'll talk a bit about the media and then they'll be doing some real work for local charities."
"Hopefully they'll learn a lot and learn that politics is about serving people not just necessary partisan interests."
Every MP from East England who we've spoken to is keen to stress that they will be working during a large part of the holiday.
Keith Simpson (Con, Broadland) says without the pressure of parliamentary time he gets to spend longer at events in his constituency.
"It's nice when people stop you in the street that you have time to chat to them," he says.
And Sir Bob Russell (Lib Dem, Colchester) tells us that he has "Twelve advice bureaux for residents - all fully-booked with nearly 150 appointments - which I feel is a worthwhile use of my time".
Meanwhile many ministers, including Foreign Office minister Alistair Burt (Con, North East Bedfordshire), will be on duty not just doing their normal jobs but helping to entertain the many foreign dignitaries who will be in London for the Olympics.