Public to choose between tax rises and benefit cuts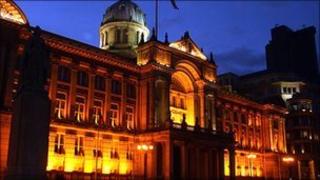 It may seem like choosing between the devil and the deep blue sea.
But these are the options Birmingham's controlling Labour group will be putting to the city's 400,000 council tax payers in a mass consultation exercise due to begin in September.
It's been triggered by a government scheme, due to come into force next April.
This will require local authorities to take direct responsibility for council tax benefits, and to take a 10% cut in the grants they receive from Whitehall to fund them.
In Birmingham's case this would equate to savings of £12 million.
The sheer size of this £3.5 billion per year authority means that it is here that the impact is heaviest.
The city also has a high concentration of people on low incomes.
Blame game
The council blames not one, but two Conservative/Liberal Democrat administrations: the government, of course, and also the city's own coalition which was in charge for eight years until this year's local elections.
Birmingham's Labour Leader, Councillor Sir Albert Bore, had already accused his predecessors of leaving a budgetary 'black hole'.
The Conservatives and Liberal Democrats replied that the real 'black hole' was the national deficit left by the previous Labour government.
They said that this was driving this entire deficit reduction process, including cuts to council tax benefits which had more than doubled since 1997.
Now the council is appealing to the Communities and Local Government Department to defer the cut.
It says it will do its best to protect families with young children, or with elderly and disabled people.
But inevitably, it says, some of the city's poorest people would be hit.
A logical deduction would indicate young, single adults.
Charities including the YMCA are warning that homelessness, especially among young people, is bound to increase as a result.
However unpalatable this may seem for a new Labour administration, the alternative looks even bleaker.
Raising council tax would herald a chorus of Conservative and Liberal Democrat 'I told you so's'.
And under the Localism Act, any council tax increase of 3.5% or more would require a referendum.
So what are the chances that the government will be persuaded to back down and grant Birmingham a stay of execution?
Remote, I'd say.
Tough choices
The Department for Communities and Local Government wants local authorities generally to take direct responsibility for easing the burden on taxpayers of benefits which they say have been spiralling for too long.
In doing so, it believes councils would be forced to buy-in to the government's message that 'work must always pay': that anyone who can work and can find it, should do so and should be appreciably better-off than they would be claiming benefits.
The government also believes this approach chimes with public opinion: recent surveys suggested the benefit reforms enjoyed approval ratings of up to 60%.
All of which leaves Birmingham's new Labour cabinet facing what it calls "tough choices".
That is a view disputed by a leading member of the Conservative opposition group.
Councillor Randal Brew told us benefit cuts and council tax increases were "unnecessary".
He said the council should instead explore radical new and more efficient ways of working and raising income.
Some neighbouring local authorities are already pursuing ambitious strategies for sharing services and pooling resources.
Bromsgrove and Redditch Councils now have one chief executive between them.
Ministers are convinced councils have a long way to go yet in teasing-out further synergies and efficiencies.
Now that we know deficit reduction will remain a way of life until well into the next Parliament, whichever government comes in after the 2015 election, the one thing we can be sure of, whatever our politics, is that local services will look very different in five years' time than they did five years ago.