Eddie Maher: The financial demise of £1.2m security van thief
5 March 2013

From the section

England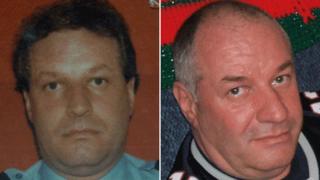 Eddie Maher's financial demise was almost as spectacular as his rise to riches.
As he drove off with nearly £1.2m in the back of a security van, the idea that 17 years later he would be declared bankrupt must have seemed unthinkable.
The former soldier, firefighter and pub landlord had joined Securicor as a guard months before the theft from outside Lloyds Bank, in Felixstowe, Suffolk, on 22 January 1993 - for which he has now been jailed for five years.
His time with the Royal Green Jackets saw him complete a tour of Northern Ireland.
After 12 years' service with London Fire Brigade, he left with a "satisfactory service record" after sustaining a back injury and went on to run a pub in Higham, Kent.
'Fairly miserable'
Maher, who had two sons, was from a large family from the Ilford area of east London.
He worked from the Securicor base in Chelmsford, Essex, and lived in a rented house in Fremantle Close, South Woodham Ferrers.
He had lied about previous convictions, including robbing a milkman in 1977, to get a job as a Securicor van driver in October 1992.
He also failed to disclose his debts, which totalled a "few thousand pounds".
His neighbours, who saw the cul-de-sac they lived in become the centre of a media frenzy in the days after the theft, knew little about him.
"He seemed fairly miserable most of the time - but I bet he has got a big smile on his face now," said one neighbour, speaking to reporters days after the theft.
Despite various leads being pursued, including information that he was in Cyprus and the West Indies, detectives in Suffolk were unable to trace Maher.
Meanwhile, he was thousands of miles away moving from state to state around the US.
£19,000 debt
Kayla Jacoby, 23, encountered Maher when she dated his son, Lee, at high school at Wisconsin in 2006.
When the pair graduated that summer, she was five months pregnant with Lee's child.
Ms Jacoby, who split up with Lee in 2008, said Maher never put down firm roots and did not lead a lavish lifestyle.
"There was nothing extravagant," she said. "The only thing was (Maher) always had the latest phones. That was it.
"He was working as a broadband technician."
American court papers show Maher was declared bankrupt in 2010, with just £54 in his bank account. He had debts of more than £19,000.
He was was driving a 13-year-old 4x4 with about 200,000 miles on the clock and had a succession of credit card and loan debts.
Maher, now aged 57, was known to have used the alias Stephen King, as well as Michael Maher - the name of one of his brothers.
Although earning about £1,200-a-month at the cable company in Ozark, his outgoings totalled more than £1,150.
Maher had hit rock-bottom financially. The £1,172,500 he had driven off with from Felixstowe in 1993 was long gone.