'Fast Eddie' Maher: The crime that netted guard £1.2m
5 March 2013

From the section

England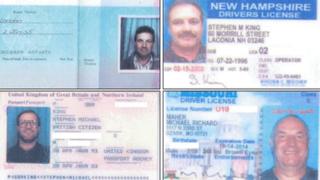 It was a crime that seemingly made Eddie Maher an instant millionaire.
As his Securicor van pulled up outside Lloyds Bank in Felixstowe, Suffolk, just after 09:30 GMT on 22 January 1993, his carefully planned operation swung into action.
After waiting for his colleague to disappear from view inside the bank, he calmly drove off.
In the back of his security van was £1,172,500 in cash - money that would never be recovered. Just £2,100 in coins was left inside.
For Maher, it was the start of a life on the run. For the Suffolk police officers tasked with finding him, it was the beginning of a 19-year manhunt.
The security van was found abandoned and empty close to Felixstowe seafront. About 30 bags of cash - containing £5, £10, £20 and £50 notes - were gone.
'Fast Eddie'
By that time the money had been transferred between two getaway cars and Maher's escape was well under way.
To this day, police do not know how he did it or how he managed to get out of the UK, although detectives are certain he would have had help.
The theft attracted huge media attention at the time - and saw Maher tagged "Fast Eddie" by some newspapers.
He had specifically asked to be on the "Felixstowe run" that day, claiming he had a hospital appointment to go to in the afternoon.
Police believe he arrived in the US on 22 February 1993 - exactly one month after the crime.
It is not known what he did in the intervening four weeks, although detectives are certain he did not leave the UK using his own passport.
Maher, who grew a beard and wore over-sized spectacles, wasted little time in spending the money once across the Atlantic.
In July 1993, he used his false identity to buy a house with mountain views in the comfortable Woodland Park neighbourhood of Colorado.
He paid $120,000 in cash. His fingerprint was later found on the paperwork.
'Middle of nowhere'
Maher made a $17,500 profit on the property and, in February 1995, bought 80 acres of land in a remote part of Colorado where he built a ranch style home 30 minutes drive from the nearest town of Calhan.
"To use the term 'in the middle of nowhere' is a bit of understatement," said Det Insp David Giles, the Suffolk police officer who visited the home in January as part of the investigation.
By 1996, Maher moved again, this time to a home complete with hot tub in New Hampshire.
Records show each of the properties were sold on and the money spent, police said.
People close to Maher said Florida, Pennsylvania, Minnesota, Wisconsin, Texas, and Oklahoma were among his many stops during his 19-year spell in America.
It seemed he never put down any firm roots, renting accommodation and never staying anywhere long enough for neighbours to get to know him.
By the time of his arrest in February last year, Maher had been declared bankrupt and was living under the name of his brother, Michael, in a rented house in Ozark, Missouri.
Despite the size of the theft, Maher soon came upon hard times as he spiralled into debt.
He insisted he only got a share of the proceeds of the theft and, after being declared bankrupt in 2010, his life as a fugitive finally came to an end in 2012.
Fled to motel
His former daughter-in-law Jessica King had alerted police that the man who called himself Michael Maher was in fact a fugitive wanted in the UK.
A quick internet search for "Fast Eddie" confirmed officers' suspicions and marked the start of a surveillance operation.
On 8 February 2012, he was arrested - but not before a final escape bid.
Officers watched as he grabbed a few possessions and fled to a nearby motel.
However, he returned home soon after and officers swooped to make the arrest on suspicion of firearms and immigration offences.
After five months in custody, during which time he turned 57, he was flown back to the UK to face the theft charge.
Tuesday's guilty plea and five-year jail term at Southwark Crown Court in London marked the final chapter of Maher's two decades on the run.