Hard shoulder to widen M25 past Clacket Lane
13 July 2012

From the section

England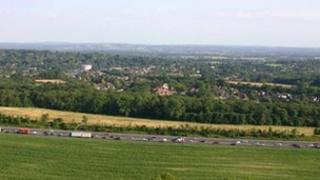 Drivers on the M25 will be able to use the hard shoulder, under proposals to create an extra lane for a 15-mile stretch through Kent and Surrey.
Work will begin next year to install overhead and verge-mounted signs which will display variable speed limits designed to control traffic flows.
The Highways Agency said the £250m scheme would provide much-needed extra capacity between Sevenoaks and Redhill.
The AA said drivers stuck in congestion would breathe a sigh of relief.
The current three-lane section between junctions five and seven is used by 146,000 drivers every day, with heavy congestion during rush hours.
Managed motorways have been introduced on the M42 and M6 in the Birmingham area, with other schemes under way on the M4 and M5.
Highways Agency spokesman Martin Potts said the first scheme, on the M42, which uses overhead gantries, had reduced accidents by more than 50%.
'Significantly cheaper'
"With managed motorways the travelling public are corralled with the signage and speed controls and drive more carefully," he said.
"It is significantly cheaper than building a new lane.
"There will be emergency refuge areas every one-and-half miles or so and if somebody breaks down between those areas there is active CCTV coverage of the whole road."
AA spokesman Paul Watters said the motoring organisation had concerns about the design of the M25 scheme.
"We believe that with the nearside signs they are proposing rather than gantries there is a risk that some signs may be obscured by heavy lorries," he said.
"There are some refinements to be made but those drivers stuck in congestion will be glad to see some relief."
A public exhibition explaining the scheme is being held at Nutfield Lodge, Nutfield Road, Redhill on Friday and Saturday.