Ding murders: Arrested man is chief suspect Anxiang Du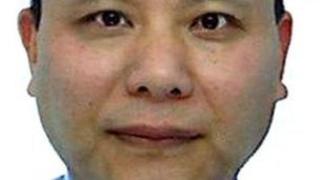 A man arrested in Morocco in connection with the murder of a Northamptonshire family is the chief suspect Anxiang Du, police have confirmed.
A manhunt for Mr Du had been underway since the bodies of Jifeng Ding, his wife Helen and their daughters, Alice, 12, and Xing, 18, were found at their home in May 2011.
Mr Du was arrested on Saturday in Tangier, where he had been living.
The Home Office will now organise his extradition, police have said.
Detectives had announced last week that Mr Du was living in Tangier.
Northamptonshire officers visited Madrid and believe their inquiries there "played a significant part in the suspect's apprehension".
Officers will now be progressing a formal application for extradition with the Home Office.
Help from Interpol
All four members of the Ding family were found stabbed to death at their home in Wootton, Northampton, on 1 May last year.
Police believe they were killed on 29 April, the day of the royal wedding of the Duke and Duchess of Cambridge.
Mr Du, from Coventry, who worked at a herbal medicine shop in Birmingham, went missing a day after losing what has been described as a bitter court battle over his shared business interests with the Ding family.
A year on from the killings, Northamptonshire Police said the search for Mr Du had spread internationally with the help of Interpol and the Serious Organised Crime Agency.
It has worked with 43 UK police forces and through Interpol has been in touch with 180 countries.
Thousands of people have been visited and interviewed regarding sightings, information, intelligence and questioning, and more than 5,000 hours of CCTV have been seized.
By April this year, police had followed up 380 suspected sightings and carried out nine arrests, some of which were made in the belief the person was Mr Du.
Mr Ding worked as a lecturer at Manchester Metropolitan University and his wife worked locally at a school in Northampton.