Downpours shocked 'most flooded' town Upton upon Severn
20 July 2012

From the section

England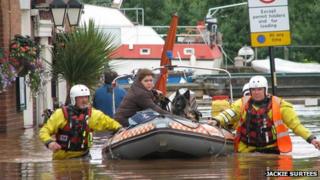 Upton upon Severn has been dubbed "the most flooded town in Britain" but the speed and ferocity of the flood five years ago remains etched on residents' memories.
Grahame Bunn, landlord of the Kings Head, carried about £18,000 of stock into his cellar on 19 July, 2007, as he prepared for his busiest weekend, the annual blues festival.
Some tourists had already arrived in the pretty Worcestershire town and although the weather was a bit grim, people were in good spirits.
But soon torrential rain started to fall. And fall.
Heavy downpours hit some places for eight hours, leading weather stations to record their highest ever daily rainfalls .
Rivers broke their banks and flash flooding affected large parts of central and southern England, damaging thousands of homes.
'Flood from hell'
Upton, snuggled next to the River Severn, has seen flooding 78 times since 1970, according to the Environment Agency.
And from the winter of 2005 temporary barriers were brought in to protect the town every time the prospect of flooding loomed.
Mr Bunn said the barriers, stored about 40 miles away near Kidderminster, had been "up and down like a fiddler's elbow" in their first 16 months of use.
The lowest parts of his riverside pub flooded quite often and the building was "completely flooded and shut" 10 weeks after he took over the leasehold in 2000, so he had grown to accept it - at least in winter.
"But then 2007 was just the flood from hell," he said.
Unusually the high flows originated in the River Teme, a Severn tributary, which meant there was little warning, he said.
"And the motorways came to a standstill and some people's journeys that normally take an hour were taking eight hours and some people weren't even able to get where they were going and they had to stay in hotels.
"And unfortunately our barriers were stuck on the motorway and couldn't make it here."
Mr Bunn had not moved any stock, believing the barriers were on their way and not on the M5.
"And by 9 or 10 o'clock on Saturday morning we were waist deep in water and everything had gone.
"And because it was blues festival weekend we had all been gearing up for it. And I had a marquee in the car park. It was just desperate."
The dirty floodwater lapped the tops of bar stools in his back bar and reached the top of tables in the restaurant.
'Street bars'
Rescue workers praised the way residents helped each other and were impressed by their camaraderie.
Mr Bunn said there was initially a party atmosphere in Upton which had been turned into an island rimmed by floodwater.
"Because it was blues festival weekend everyone had a festival mentality - so street bars suddenly appeared," he said.
"There was a bar on the roundabout and obviously there were cellars full of beer that needed to be got rid of. And a few bands had made it to the festival so there was music going on in the streets. "
However, as the hours went by and the streets remained flooded, the mood became sombre.
"I think in the beginning there's a euphoria of 'we're stuck in the town, there's loads of beer, there's loads of music, let's have a bit of a party'," he said.
"But then reality sets in and it was a long haul to get back."
Mr Bunn's wife Claire, their son and three dogs, were among those taken by boat through floodwater.
While residents pitched in to run a makeshift rest centre or make hot drinks, the eight-strong volunteer-run Mercia Inshore Search and Rescue team carried out most of the rescues.
Flood defences
Team manager Dave Walker is a building surveyor and his surveying ladders were used to rescue people from first-floor windows.
"For 48 hours the crew didn't stop," he said. "It went by in a haze almost.
"We were getting calls from people marooned in houses and people with water coming into their houses - it was endless."
He said the crew rescued about 60 people, including children stuck on a railway embankment and people in boats in trouble on the river.
"We carried some older residents through very deep water, which wasn't very comfortable for them," he said.
The volunteer crew were later helped by firefighters from several forces.
The Kings Head closed for four months after the flooding and did not fully re-open until February 2008.
Mr Bunn believes the town has still has not fully recovered.
"With the riverside shut people weren't coming to the town so all the businesses suffered," he said.
But the July flood brought a historic change for Upton as it led to the town getting permanent flood defences in a £4.5m project.
The final phase, a riverside flood wall, was unveiled earlier this month.
Residents hope it means Upton can now emerge from its water-logged reputation.
As vice chairman of Upton Flood Forum, Mr Bunn helped campaign for the new defences.
"This is fantastic for Upton. For future generations, it is fantastic," he said.