Cancer survivor Vicky Forster hopes to find a cure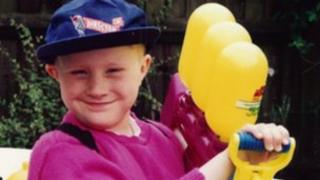 "Dear Cancer I beat you aged eight, and today I got my PhD in cancer research. Take that."
This is the tweet that 25-year-old Vicky Forster posted slightly tipsy after a night out, in a haze of euphoria and egged on by friends.
That was almost two weeks ago and since then her "fighting talk" message has been retweeted more than 4,500 times.
Miss Forster had just found out, 18 years after beating cancer as a child, she had gained her PhD from Newcastle University's Northern Institute for Cancer Research and was now Dr Forster.
She had spent three years researching acute myeloid leukaemia, and a further six months writing up the project.
'Defiant message'
Since the spur-of-the moment tweet, she has received messages of congratulations from all over the world including, from as far afield as the Philippines and China.
Parents of children with cancer have also taken comfort from her defiant message calling her "inspirational".
Miss Forster, who lives in Spital Tongues, Newcastle, but is originally from Chelmsford, Essex, said: "I'd been out celebrating my PhD when I sent the tweet, and when I woke up I couldn't believe it was viral.
"I've been overwhelmed by the response. I was a bit tipsy when I sent it in the early hours and when I woke up it was trending."
Miss Forster was diagnosed with acute lymphoblastic leukaemia after a bout of pneumonia when she was seven.
Blood tests showed that her white blood cells were dividing uncontrollably and doctors at St Bartholomew's Hospital in London gave her a 60/40 chance of survival.
She underwent chemotherapy and lost her hair, before she was told she was in remission.
"I remember lots of trips on the train to London and spells in hospital. My mum Pam had been about to go back to work when I got sick so that went on hold," Miss Forster said.
"Also my sister Becky, who is a couple of years younger than me, had only just started school, but had to be looked after by other people.
"When a child gets sick it really destabilises the family - at that age the world revolves around you, but now I can appreciate what my family went through and what sacrifices they made."
Five-year survival rates for childhood leukaemias have risen from 65% to 90%.
But as far as Miss Forster is concerned there is still a long way to go to find out why 10% do not make it.
As well as her research, she raises money for cancer charities. In September she will do the Great North Run for Leukaemia and Lymphoma Research and so far has received pledges of almost £700.
'Less toxic'
Miss Forster added: "I've had pledges from total strangers.
"This is a cause very close to my heart and the work of this charity is probably the reason why I am still around today.
"I owe them a lot. Research is vital to helping more people survive this terrible disease, but as I know from first-hand experience, it is so expensive.
"We must keep fundraising, researching and at some point in the future there will be no more deaths due to cancer - we want to find a cure for the remaining 10% of children who do not survive.
"Babies can be virtually born with leukaemia and this is very hard for families to take. We need to find less toxic and better therapies."