Calls for a UK wide strategy to support life sciences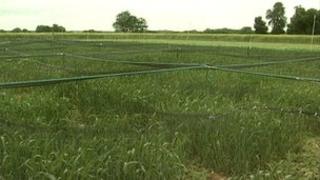 Climate change, food security and protecting valuable resources are the challenges we must meet in farming in the future, according to the government's Life Sciences Advisor, George Freeman.
He believes that advances in science and technology are essential to shape the future of Britain's farming.
"This is really about two challenges - sustainable growth here and around the world.
"We have the research centres in the east. In Norwich and Cambridge, we are leaders in agricultural sciences. We have key skills and a supply chain," he says.
"And we need to look at what we can do to attract increased investment."
Sustainable agriculture
Of course that raises the controversial topic of genetically modified foods, for which the MP for Mid Norfolk is unapologetic.
"This is not about the whole scale adoption of GMs but how we, in the UK, can contribute to sustainable agriculture around the world.
"We have a duty to give the developing world drought resistant and pest resistant crops.
Thirteen years after the controversy of GM foods hit the headlines farmers are still divided over the benefits that science can bring.
Two of the three GM trials under way in the UK are being undertaken in our region.
Wheat bred to be aphid resistant, attracted a noisy protest at Rothamsted in Hertfordshire recently.
While blight resisitant potatoes are being developed at the John Innes Centre in Norwich.
A protest by Green Peace in Norfolk 13 years ago showed how toxic the issue was then.
The people involved in that protest still believe that GM farming simply isn't necessary.
Others are determined to embrace the science and hope to feed the world.