Piers Hopson's parents trying to find son's body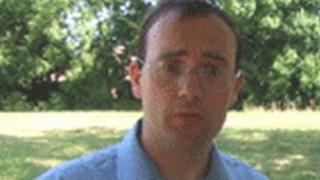 The parents of a man whose remains were identified nearly two years after they were found at sea have said they do not know where his body is.
Piers Hopson, 35, who had Asperger syndrome, was last seen leaving his St Leonards care home in January 2010.
His remains were found by a French trawler eight months later off Newhaven but the identity was only confirmed to Sussex Police on Monday.
Roger and Dawn Hopson said they were unable to make funeral arrangements.
Mr Hopson said: "Even after that 15-month delay they [the French authorities] don't know where the body is."
He said UK police had asked their counterparts in France where their son's body was being held so they could bring it back to the UK.
"We can't go forward," Mr Hopson added.
"All the we know is that he's dead. That's all we know."
Intensive search
Sussex Police said they were investigating why the family had not found out earlier about the results of a DNA test on their son's remains.
Det Insp Rob Morland said: "It's been an extremely long time and the family could have had closure to this investigation a long time ago.
"I am investigating the reasons why that is but it involves a lot of international organisations."
Mr Hopson went missing after saying he was going for a walk. The last sighting of him was in Rock-a-Nore Road on Hastings seafront.
An intensive search by police, his family and volunteer search teams was carried out and his parents, from Crowborough, offered a reward for information and made a TV appeal to try to find him.
They also visited Tunbridge Wells railway station in Kent every day for two weeks afterwards in the hope that he would arrive there by train, as he did when he visited their home.
In a renewed appeal for information last January, they said they had not given up hope he would be found alive and hoped someone was taking care of him.