'Repossession risk hotspots' revealed across England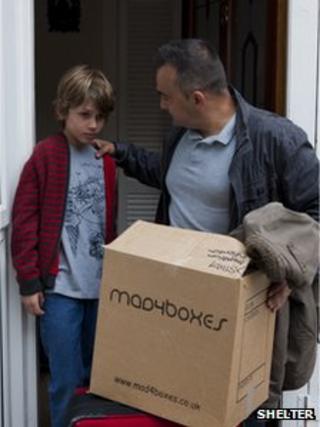 New research by a homelessness charity has been used to present a picture of the number of homeowners at risk of repossession around England.
Shelter's "Repossession Risk Hotspots" used the latest figures for 2011/12 to show where people faced losing their homes around the country.
The government said it was determined to help homeowners facing repossession.
Across the UK home repossession levels are said to be "stable" when compared with last year.
Studies to measure repossession levels are usually based on possession orders - a legal order granted by a court for someone such as a bank or other lender to take possession of a property if the person living there does not keep up with mortgage payments.
Clusters of claims
But for the first time Shelter looked at possession claims - applications by lenders to the courts to take possession of a house which is the first step in obtaining a possession order.
The charity said it took this approach to provide earlier indications of areas where high levels of people are at risk of losing their homes.
It found the top repossession hotspot was Barking and Dagenham, in London, where there were 8.44 claims per 1,000 homes. The national average across England was 3.50.
Also in the top 10 were Knowsley, Rossendale, Rochdale, Blackpool and Burnley all in the North West, Thurrock and Luton in the east and Lewisham and Newham in London.
The charity found those areas with more repossession risks had also seen a bigger increase in unemployment.
In the top fifth of local authorities, unemployment had risen by 3.1% in 2011/12, in comparison to 1.5% and 1.9% in the bottom two fifths.
The charity said the results revealed "distinct clusters" in certain parts of the country, with an almost unbroken band of high claims stretching over the north of England from Merseyside in the North West to Humberside in the east, with a spike extending south into Derbyshire.
Further hotspots were identified in the North East around Durham and Tyneside, surrounding Birmingham in the West Midlands, and in central England combining Northampton, Wellingborough and Milton Keynes. East London and the Thames Estuary also had hotspot clusters.
The lowest rate of claims was in West Somerset, in the south west, and Mole Valley, in the south east, where the rate was 1.88.
Devastating impact
Campbell Robb, chief executive of Shelter, said: "Most people think repossession will never happen to them, but rising unemployment, rising living costs and high house prices mean that many people are living close to the edge already, and risk falling into a spiral of debt and repossession.
"The journey from being a homeowner to becoming homeless is frighteningly swift, with just one small thing like a wage cut, a health problem or a job loss meaning that a family can no longer meet their mortgage payments.
"When repossession happens, the impact on families is devastating - research shows people think repossession is worse than having to fight a child custody battle."
He added: "Housing is the largest monthly cost for many homeowners, yet the affordability of housing is not getting the same government attention as the monthly costs of other essentials such as food or energy bills."
Housing Minister Grant Shapps said the government was working to help families struggling with housing costs.
He said: "By tackling the record deficit we inherited we've prevented the need for rapid rises in interest rates that would have put pressure on hard-working families, meaning repossessions are at their lowest level since 2007.
"But I'm determined that help is available to those facing the real and frightening prospect of losing their home.
"That's why I've given £19m to councils so they can offer short-term loans to struggling homeowners, and over £3m to the National Homelessness Advisory Service, run by Shelter and Citizens Advice, to ensure help is on hand to families when they need it most.
"Like Shelter, I would urge anyone struggling with their mortgage to seek early help, so that repossession is always the last resort."
The Shelter study calculated a possession claim rate per 1,000 homes in order to allow comparisons between different sized local authorities.