East Midlands Trains strikes called off after talks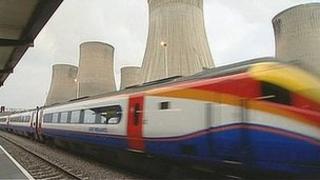 Two planned strikes by drivers at East Midlands Trains have been called off after "constructive" talks aimed at resolving a row over pensions.
Members of the Aslef union were due to take industrial action on Saturday and Monday.
The union said talks had been held with the company which it hoped would lead to a satisfactory conclusion to the dispute.
The drivers have previously taken six days of strike action.
Aslef members oppose East Midlands Trains' plans to reduce both its own and staff contributions to its pension fund from July.
The firm said the change would leave drivers £500 a year better off without affecting pension benefits but the union called the move reckless.
Managing director, David Horne, said: "This is a positive and welcome step by Aslef and means we can run our full service for passengers."