HMS Sutherland rescues deer from Plymouth Sound
18 June 2012

From the section

England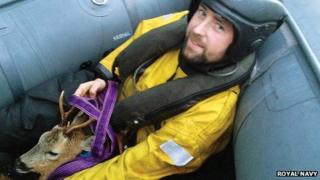 A wild deer has been rescued from the sea by a Royal Navy warship during a training exercise in Plymouth Sound.
The roe deer was spotted by the crew of HMS Sutherland on Saturday and a boat was launched to rescue it.
The crew from the Type 23 frigate was undergoing combat training at the time. Its commanding officer said the animal was in "extreme distress".
The deer was taken by boat to Fort Picklecombe, near Torpoint, in Cornwall, where it was released.
The ship's captain, Cdr Al Wilson, said: "I was really pleased that my team managed to rescue a wild animal that was in extreme distress and return it to its natural habitat.
"It is obvious that the deer was so fatigued that it would not have survived much longer and would have drowned before reaching the shoreline."
Petty Officer Andrew Rodgers, a former keeper at Dartmoor Zoo, helped to calm the deer.
He said: "After leaving the zoo I did not think I would be looking after animals again. However, I am glad that I was on board and was part of the team that saved the deer's life".
HMS Sutherland is in the middle of a training programme ahead of its next deployment.
The Devon Wildlife Trust said deer were known to swim, but it was not sure how the animal ended up in the Sound.
"It might have been frightened, or not realised where it was going," a spokeswoman said.