Omar Benguit was not at Bournemouth murder scene, lawyers claim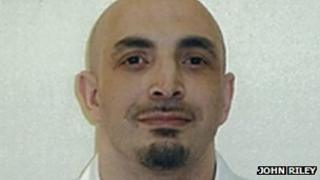 Lawyers for a man convicted of killing a student claim CCTV footage shows he was not at the murder scene.
Omar Benguit was jailed for a minimum of 20 years in 2005, for stabbing Jong-Ok Shin, 26, in Bournemouth in 2002.
His legal team want his case reviewed and claim she could have been killed by "hair-in-hand" murderer Danilo Restivo.
The Criminal Cases Review Commission (CCRC) said it was considering the case.
Restivo is serving a life term for murdering Heather Barnett in the town in 2002.
She was bludgeoned with a hammer before having her throat cut at her home in Winton.
Shop front CCTV
Restivo, 39, left someone else's hair in her hand.
He was also found guilty of the murder of 16-year-old Elisa Claps in Potenza, Italy in 1993.
Benguit was convicted in 2005 of murdering Miss Shin after three trials.
Miss Shin was found slumped on a pavement, having been stabbed three times in the back as she walked home from a night out in 2002.
CCTV footage supplied to Benguit's defence team by Dorset Police shows the car he was allegedly in at the time of the murder was not at the scene.
Lawyer Des Jensen believes the footage contradicts evidence from the prosecution's main witness at the previous trials.
'Legal error'
He said: "This footage, taken from shop front CCTV cameras, has not been viewed by any previous defence team.
"We have had it independently analysed by a forensic expert 20 minutes either side of the attack.
"Nowhere does it show the vehicle Mr Benguit allegedly got out of to attack Miss Shin."
Benguit's legal team also claim an independent expert has verified wounds to Miss Shin were inflicted with a knife identical to that Restivo was carrying when arrested in 2004 in connection with Miss Barnett's murder.
Mr Jensen also says a man who gave evidence in the first two trials saying Benguit confessed the murder to him, has now retracted his statement in full.
Mr Jensen added: "For an offence of this nature, a clear legal error has been made.
"The killings of Heather Barnett and Jong-Ok Shin have to be the work of one man and we believe that man was Danilo Restivo."
The CCRC confirmed the footage has been submitted by Mr Benguit's legal team.
A spokesman said: "We will be considering those matters alongside other lines of inquiry we are following in this case."
Dorset Police confirmed all relevant material was fully disclosed in their murder investigation and that the Criminal Procedure and Investigation Act was fully complied with.
A spokesman said: "The credibility of witnesses was fully tested during the trial and also at appeal. The appeal was dismissed. Omar Benguit was convicted of Oki-Shin's murder in 2005.
"He appealed against his conviction - his appeal was dismissed."
Dorset Police have not reopened its investigation, the spokesman added.