Frack Off protesters end drilling rig blockade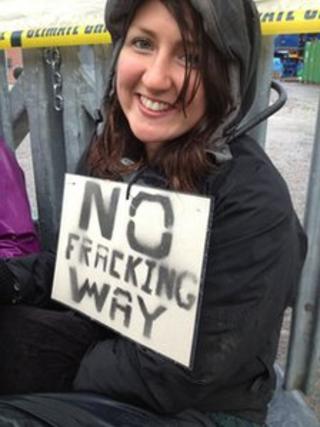 Protesters who oppose the fracking method of natural gas extraction have ended their blockade of a drilling rig stored in Derbyshire.
The group Frack Off said it wanted to delay the rig moving to a frack site in Lancashire.
Four of the protesters locked their necks to gates at the site in Danesmoor, near Chesterfield.
Cuadrilla Resources, which owns the rig, said it did not want to get involved in arguments with protesters.
Before the blockade ended, police issued a formal warning that protesters would be arrested if they did not move immediately.
'Pretend to care'
Joe Reid, 22, one of the protesters who locked themselves to the gates, claimed "corporate greed" was being prioritised "over the interests of people and eco-systems while pretending to care about them".
In response to the protest, Mark Miller, chief executive of Cuadrilla Resources, said: "We would rather concentrate on continuing to communicate on every aspect of our operations with the local communities that we work within, than get involved in arguments with environmental protesters - most of whom don't live anywhere near where we work."
Twenty demonstrators said they arrived on the site in Danesmoor, near Chesterfield, since 04:45 BST.
Derbyshire Constabulary said a member of staff at the firm called them at 05:20 BST and the protest ended at 12:50 BST.
Frack Off believes the rig is due to be moved to Lancashire within the next few days.
Group spokesman Ben Johns said the protest had succeeded in raising awareness of fracking.
'Back to normal'
"We had a talk about it and we felt not only had we squared up to the company we had achieved our goal in getting the message out, that drilling is going to commence," he said.
"If they start drilling we will be there to oppose them."
A spokesperson for Derbyshire Constabulary said the protest had been peaceful and nobody was arrested.
The site near Chesterfield is owned by PR Marriott Drilling, a specialist contractor that works with Cuadrilla on their drilling operations.
Their work includes maintaining and servicing the drilling equipment, including the rig.
A spokesperson said: "Despite the best attempts of the environmental protesters to damage this British business, access to the site has been gained and work has all but returned to normal."