AWE charged over fire at atomic weapons site in Aldermaston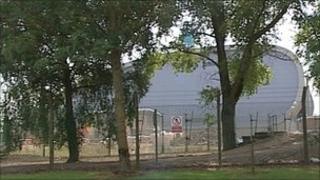 The Atomic Weapons Establishment (AWE) is to be prosecuted after a fire left a worker with burns to his face and arm.
The Health and Safety Executive (HSE) is taking legal action over the blaze inside a bunker in Aldermaston, Berkshire, where explosives are housed.
The incident, which occurred at the site on 3 August, 2010, prompted the HSE investigation.
The AWE has been summonsed to appear at Reading Magistrates' Court on 6 August to face three charges.
These are that the AWE failed to ensure the health, safety and welfare at work of its employees, that it failed to take appropriate measures to limit the extent of fire or explosion regarding the storage of explosives and it failed to ensure that suitable personal protective equipment was provided to its employees.
In a statement, the AWE, which maintains warheads for the Trident nuclear deterrent, said: "AWE deeply regrets the occurrence of the fire at our Aldermaston site on 3 August 2010.
"Ensuring the safety of our staff, neighbours and local community is AWE's highest priority.
"Following the fire, we quickly initiated a thorough, independently-led investigation and published the resulting report in June 2011."
The AWE said the operation being carried out at the time of the fire was immediately suspended and would not be re-started until a safe alternative process had been agreed with its regulators.
Some workers and residents were put up in hotels in Aldermaston and Basingstoke overnight following the fire.