Injured crewman airlifted in storms off Isles of Scilly
15 June 2012

From the section

England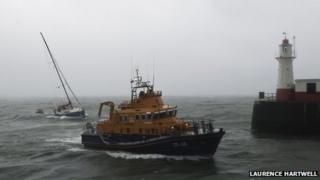 A rescue helicopter has airlifted a crewman injured on a boat in stormy weather off the Isles of Scilly.
The rescue by RNAS Culdrose came as gale-force winds and large swells were recorded in Cornwall.
Two other crewmen who suffered a fractured arm and cuts on a military vessel 210 miles off Scilly were due to be airlifted.
It followed the rescue of a yacht which lost engine power off the coast of Newlyn on Thursday.
There is no further information on the military vessel which coastguards believe is currently too far out to sea for an airlift.
Rain warning
Ken Bazeley of Falmouth Coastguard said in the injuries were probably due to the weather conditions at sea.
He said: "There are several vessels that we are monitoring all the time as they make their way back to Falmouth or Plymouth or the south coast of Cornwall that have suffered mast or steering problems."
A number of boats were ripped from their moorings on Thursday night in Falmouth and Penryn in Cornwall.
Gale-force winds of up to 46mph have been recorded on Friday at RNAS Culdrose.
The Met Office said heavy showers, some of which could be thundery and with a risk of hail, were expected to develop widely on Friday.
The Environment Agency said people in Devon and Cornwall should "remain prepared" for the possibility of flooding.
Ferry disrupted
Devon County Council said its highways department, which was still clearing up debris from last week's storms, was "geared up" to deal with any incidents.
In Cornwall, services to the Isles of Scilly have been disrupted. The Scillonian III has been docked at St Mary's Harbour since its crossing from Penzance on Thursday morning.
It left for the mainland at 16:30 BST on Friday.
Ferry managers added that the Saturday morning sailing from Penzance would be delayed from 09:15 BST until 11:00.
Skybus said despite the forecast it was "hopeful" all its scheduled flights would go ahead.
Claire Jeavons, from Beverley Park, in south Devon said the weather was causing some holiday-makers to stay away.
"Just this week we have been hearing that all caravan parks in the West Country are on flood alert, and this simply isn't the case," she said.
"We've been receiving many calls from worried customers, but we assure them that flooding at our altitude would also mean the entire English Riviera was hundreds of feet underwater."
But Nick Phillips, whose Exeter company, G Phillips and Sons, specialises in farming and country clothing, said the wind and rain had resulted in a hike in sales.
He said customers had been buying goods such as waterproofs, wellington boots and horse rugs, with sales up by about 50%.
The Environment Agency said uplands and areas that experienced heavy rain earlier this week were more at risk and it had teams checking flood defences, clearing river blockages and monitoring river levels.