Thefts from Devon and Cornwall military bases cost £42K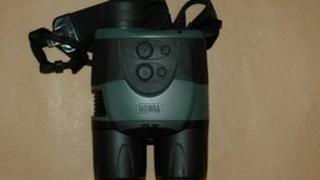 Ministry of Defence (MoD) police are trying to recover equipment worth more than £42,000 stolen from military bases in Devon and Cornwall in the past year.
The items include night vision goggles worth more than £18,000, body armour, clothing and a bayonet, according to a BBC Freedom of Information request.
The MoD said it took thefts "very seriously" and was monitoring eBay.
Oliver Colvile, MP for Devonport where most thefts happened, called for more stringent monitoring.
The thefts, which apart from the bayonet do not include weapons, show that on average there was an equipment theft from inside one of Devon and Cornwall's military bases every fortnight, between April 2011 and April 2012.
Most of it was stolen from Devonport, but there were also thefts from the Royal Marines training base at Lympstone, the Royal Navy officers training base at Dartmouth and air search and rescue base RNAS Culdrose.
Conservative Mr Colvile has written to Secretary of State for Defence Philip Hammond calling for action to curb thefts.
He said: "I think they should take a more stringent approach.
"I think it's very important that the government should explain how they are going to make sure that more care is taken of their equipment and it doesn't end up disappearing.
"This is an important area. People should not go around nicking things."
An MoD spokesman said it takes thefts from its bases "very seriously".
"[It] works hard to detect and deter theft," he said.
"Processes and instructions are in place to raise awareness of the need for vigilance in all aspects of departmental security.
"MoD Police resources are focused to best mitigate crime and to protect items of significant importance to defence.
"Appropriate disciplinary action will be taken against those identified as being responsible for theft."
The House of Commons defence committee reported in January that £1.9m worth of military equipment was stolen in 2010/11, from bases in the UK, and that there were 433 reported thefts.
By comparison, there were 167 thefts in 2006/07 valued at around £367,000.
In 2010/11, just 11 of the thefts ended in prosecution, with a further seven personnel cautioned and five dismissed from the armed forces.
The number of reported frauds also more than doubled, from 254 in 2006/07 to 592 in 2010/11.