Water meter call by civil engineers to tackle shortages
7 June 2012

From the section

UK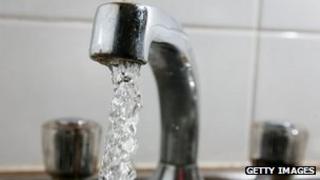 Water meters that charge for using extra supplies on cars and gardens are needed to avoid shortages, experts say.
The Institution of Civil Engineers (ICE) said security of the UK's water supplies was at a "critical" point.
In a report the institution said the situation was likely to get worse as the population grew and climate change affected rainfall in the UK.
It comes as Thames Water said it could lift a hosepipe ban sooner than expected after recent heavy rainfall.
Water mark
The ICE advocated measures such as construction of new reservoirs and small scale water storage, and encouraging households to save water.
It said there was an opportunity to reduce water consumption in the home by about a third.
But there was little incentive for people to use the resource carefully because supply was cheap and unlimited.
Universal metering with higher tariffs for non-essential use such as cleaning cars and watering gardens should be introduced, the institution said.
But the ICE was against the idea on costs grounds of a "national grid" for water in which resources could be pumped across the country to areas of greatest demand.
Michael Norton, chairman of the institution's water panel, said hosepipe bans were a "short-term fix" not a long-term solution.
"In our view, they should not be a feature of water supply in the UK in the future," he said.
The ICE marked the UK's water security as four out of 10.
Mr Norton said: "Water security has reached a critical point and we believe the underlying reason for that is we haven't taken a long-term strategic view about planning our water resources in the UK."
BBC environment analyst Roger Harrabin says mandatory metering is controversial - but the engineers say the resource is under-priced at about £1 a day.
Bans lifted
Meanwhile, Thames Water said it did not believe the hosepipe ban would stay in place unless the weather took "an unexpectedly Saharan twist".
About 20 million people have been affected by the ban imposed by Britain's largest water provider.
Seven water companies in eastern and southern England introduced hosepipe bans in April to combat drought conditions after two unusually dry winters.
But April was the wettest for the month for at least 100 years and there was further heavy rain in May.
Thames Water serves almost nine million customers in the London and Thames Valley areas.
The company said its water levels were back to where they would have expected them to be and did not think it would have to keep the hosepipe ban in place until the autumn.
Thames Water said it would make a decision at the end of June.
Two other companies, Anglian Water and Southern Water, could also lift their bans earlier.
'Huge improvement'
Despite the improvement in the situation, the Environment Agency said water levels in England remained a concern, as the South East and parts of East Anglia remained in drought.
In its latest briefing on the risk of drought , the agency found that river levels and reservoir stocks had improved significantly, easing the pressure on the environment and water supplies.
But the agency warned that underground water levels remained very low in some areas, and some rivers were at risk of drying up as levels reduce over the summer.
The agency's head of water resources, Trevor Bishop, said: "We have seen a huge improvement in water resources in just a few short months, putting us in a much more positive position for the summer.
"While the downpours in April were pretty miserable, they were really welcome as water companies were able to refill their reservoirs, river levels are mostly back to normal and many wildlife habitats that were suffering have recovered.
"But while the risk of drought with further water restrictions and associated environmental impacts this summer has reduced, the situation could deteriorate again next year if there is not enough rain this winter.
"We are still working with partners, planning for the impacts that a third dry winter could have on next year's water supplies."