Citizens' jury debates if MPs are value for money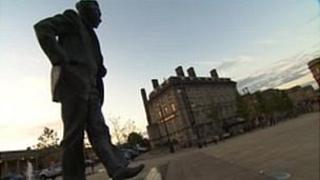 The George Hotel in Huddersfield has a reputation for making history over pay.
In 1895 it was where 21 clubs met to form the professional Rugby League allowing players to be paid for the first time.
This week there was another groundbreaking meeting about how much a high profile group is worth.
For the first time a 40-strong official 'Citizens' Jury' gathered to deliver a verdict on the pay and pensions of MPs.
MPs can draw little comfort from the results of their deliberations which can be summarised as follows:
Over a third of the jury thought MPs pay should be cut immediately;
59% said the current salary of almost £66,000 is "about right";
Just one person said they should have an increase in salary;
Virtually all had concerns about the perceived "perks" of the job.
Recovering reputations
MPs should not be tightening their belts just yet because the Huddersfield citizens' jury verdict is not in any way binding.
However, it will be a powerful piece of evidence for the new body which has been set up to decide how much MPs will be paid in future.
IPSA, the Independent Parliamentary Standards Authority, emerged from the reputational wreckage of the scandal of MPs' expenses.
Self-regulation, with MPs themselves voting on expenses, pay and pensions was clearly not going to be acceptable any longer.
Since 2009 IPSA has set up a more transparent framework for MPs' expenses and is now looking at putting in place a formula for future levels of MPs' pay and pensions.
"For the first time in history the public will have a voice on MPs' pay," I was told by Ken Olisa.
He is one of the five-strong board of IPSA which will make the final binding decision next spring.
"That is why it is important we ask as many of them as possible to participate."
Huddersfield will play a pivotal role in this because it is the only town in the North picked to hold a citizens' jury.
Just one other will be held in the south of England.
"Why Huddersfield?", said Ken.
"It has a strong liberal tradition; it is an important community in West Yorkshire; and its profile is a good cross section of society."