Unions meet in Bristol over Great Western network future
31 May 2012

From the section

England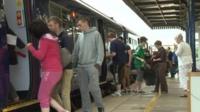 Trade unions have met in Bristol to voice their concerns over the future of rail services in the west of England.
Four firms are competing for the contract to run the Great Western franchise for the next 15 years.
Unions are warning ticket office opening hours could be reduced as the government tells companies to cut running costs.
The union representatives met at the Council House on Thursday evening to debate what the changes would involve.
President of the RMT union, Alex Gordon, said: "There's a new piece of legislation about to be put before parliament, which the government is calling its Rail Command Paper.
"Contained in that paper is a series of proposals which will decimate Britain's railways - we're saying, with the other trade unions, that if we value our railways, it's time to stand up and defend it."
First Great Western is competing against Stagecoach, National Express and Deutsche Bahn for the contract.
The terms they are about to be sent by the government will state that running costs must be cut, which could mean fewer staff.
The RMT, Unite and passenger groups, including the Friends of Suburban Bristol Railways, have said they are concerned whoever takes over the franchise may want to cut front-line staff working in stations to reduce their costs.
'Don't realise'
Disabled passenger Sally Jones said she was worried Bridgwater station could lose its ticket office.
Ms Jones, who has joined forces with other campaigners, said: "You do want advice, you do want to know the route to take and that ticket machine is absolutely hopeless for anyone disabled.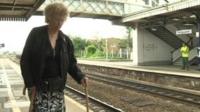 "Anybody that's got sight problems, anyone that's elderly, doesn't understand it, they're going to get on the train and have a fine because they haven't paid and they don't realise it."
Sedgemoor district Labour councillor David Loveridge said: "Bridgwater is the biggest growth town in the South West at moment, with EDF and Morrisons, and they are trying to cut down on the rail services.
"It doesn't make economic sense to me, we need our station and we need it manned."
Anthony Smith, from Passenger Focus, said: "At the moment the railways are booming, more and more people want to use them.
"When it's easier for passengers to buy tickets, when it's more clear what they're actually buying, I think we can start talking about getting staff out of the ticket offices but not getting rid of them altogether.
"Out of ticket offices yes, but on to the platform is the best solution for passengers."
The government says billions of pounds are being invested in the railways.
An announcement on who will run the franchise is due at the end of the year.