Tractors stolen by criminal gang and shipped to Iraq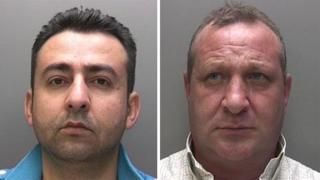 Two members of a criminal gang which stole tractors and shipped them to Iraq have been jailed.
Police in Lincolnshire, where most were stolen from, said there was "clearly a demand" of some sort in the country.
Terence Frost and Asso Jabar were found guilty of conspiring to steal £500,000 worth of agricultural vehicles.
Frost, 53, of Broadwater Drive, Dunscroft, Doncaster, was given six years, and Jabar, 31, of Agbrigg Road, Wakefield, got five-and-a-half years.
Det Ch Insp David Wood, of Lincolnshire Police, said the theft of the vehicles was a "well-organised professional operation".
"The tractors would be stolen in the early hours of the morning and they would be taken to what was basically a disused farm, taken into a shed," he said.
"Over the next few days any identification in relation to those tractors that could link them to the farms would be removed."
Taken to ports
Lincolnshire Police said the gang stole 11 tractors and one digger.
A legitimate Turkish lorry firm would then be contacted, said DCI Wood, and the vehicles would be taken to ports and transported out of the country.
Det Ch Insp Wood could not say why the vehicles were needed in Iraq.
"As part of our investigation we were unable to establish what the demand was in Iraq," he said.
"What we can very definitely say is these people were out and about looking for tractors and there was clearly a demand for them in Iraq because we know they were being shipped out there."
All were stolen from Lincolnshire, apart from two offences committed in Humberside.
Help from public
Det Ch Insp Wood said tip-offs from members of the public were key to the investigation.
"Thankfully an eagle-eyed member of the public spotted a Turkish lorry going to a farm and saw a couple of tractors being loaded onto the back," he said.
As a result, police worked out that these and further vehicles were being taken to a disused farm in Fotherby, near Louth, Lincolnshire.
The men were charged with conspiring to steal the vehicles between 1 April and 20 August 2010.
Three other gang members, including relatives of Terence Frost, pleaded guilty to the same charge at Lincoln Crown Court on 14 May.
Kirk Michael Frost, 28, of Broadwater Drive, Dunscroft, Doncaster; Jonathan Isle, 27, of Elm Tree Grove, Thorne, near Doncaster; and John David Frost, 34, from Doncaster, will be sentenced at a later date.