Shafilea Ahmed parents 'forced bag into mouth'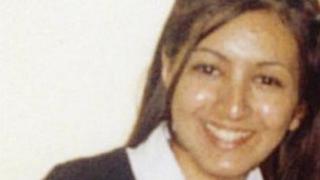 The sister of schoolgirl Shafilea Ahmed saw her mother and father force a bag into her mouth and suffocate her, a court has heard.
Iftikhar and Farzana Ahmed are accused of killing their 17-year-old daughter at their Warrington home in 2003.
The murder was allegedly witnessed by Shafilea's sister Alesha, then 14, who kept the secret for seven years.
Mr Ahmed, 52, and his wife, 49, are on trial at Chester Crown Court where both deny murder.
Prosecutor Andrew Edis told the court: "She [Alesha] describes what is an act of suffocation by both her parents acting together."
He said they had put their hands over Shafilea's face "to close her airways so she could not breathe".
He added: "She had a bag forced into her mouth."
'Truth or wicked lie'
Mr Edis said Alesha would later tell the court how she saw her parents in the kitchen of their home in Liverpool Road with bin bags and tape, wrapping the body up.
She then saw her father outside and heard a car driving off.
Mr Edis said: "She looked out of the window and saw her father with a large object wrapped in bin bags.
"She assumed that was the body of her sister."
Shafilea's decomposed remains were discovered on the banks of the River Kent in Cumbria in February 2004.
It was not until 2010 that Alesha provided the "final piece of the puzzle" about her death, the court has heard.
Mr Edis told the jury that Alesha had been arrested in 2010 for being involved in a robbery at her parents' home, in which three masked men tied up her mother, two sisters and brother.
Six days later she alleged to police that her parents killed Shafilea, he said.
Mr Edis said Alesha, who is on witness protection, was awaiting sentence on the robbery charge, and added: "She hasn't received any promises or indeed any inducement prior to when she first made these allegations."
He described her disclosure as a "bombshell" and said it was either the truth or "a wicked lie made up to help herself".
The trial continues.