Michael Pritchard inquest: Sniper 'unaware' of British troops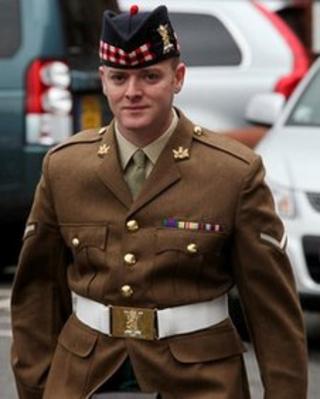 A British sniper who may have killed a soldier in Afghanistan thought he was shooting at Taliban insurgents, an inquest has heard.
L/Cpl Michael Pritchard, of the 4th Regiment, Royal Military Police, was fatally shot in Sangin in 2009.
He was deployed to stop insurgents from placing improvised explosive devices.
L/Cpl Malcolm Graham, of The Royal Scots Borderers, 1st Battalion, was not aware of another troop post called N30, the inquest in East Sussex was told.
The inquest heard L/Cpl Graham, was based at a remote observation post, known as a sangar, with L/Cpl Craig Knight, Cpl Jonathan Dolton, Rifleman Ainsley Nash and Rifleman Nathan Bennett.
Rifleman Nash told the inquest he spotted a heat source in the road, using a night sight, which he thought was someone kneeling or crouching.
He said: "I recall L/Cpl Knight saying he had his eyes on the source and that there were two people in the area of the road. He tried to transmit this to the operations room over the radio.
"The comms with our Bowman radio was very difficult and it was not working."
Machine gun
The inquest was told Rifleman Nash used his personal radio to relay the information to the operations room and find out whether they could fire warning shots.
Rifleman Nash said they were told they could let off mini flares but not fire warning shots, and then they began having problems with the personal radios.
The inquest heard the soldiers first fired some flares and then let off some more flares and up to five rounds from a machine gun.
Rifleman Bennett said he and Rifleman Knight fired warning shots under the Rules of Engagement, as they thought the figures in the road were hostile, and did not need permission to shoot.
He told the inquest L/Cpl Graham arrived, with Cpl Dolton, and asked for some crates to rest his sniper rifle on as his bipod stand was broken.
Rifleman Bennett said he then heard two shots about 30 seconds apart.
He told the inquest they then heard "man down" over the radio.
L/Cpl Pritchard, who was born in Maidstone, in Kent, but lived in Eastbourne, suffered a fatal gunshot wound to his side in December 2009.
Coroner Alan Craze asked why soldiers under Cpl Dolton's command were not aware of N30, if Cpl Dolton knew about it.
Cpl Dolton said: "Possibly they did not receive a full and correct handover.
"I would have given the first guys there that information and they would have passed that information on."
The inquest was adjourned until Thursday.