Architects campaign to increase home sizes in Yorkshire
10 May 2012

From the section

England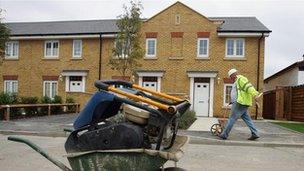 Newly-built homes in Yorkshire are on average the smallest in the UK, the Royal Institute of British Architects (RIBA) claims.
RIBA said the average three bedroom home being built in the region is 13 sq m (139 sq ft) smaller than the recommended minimum size.
It claims this deprives families of space, and should be changed.
The Home Builders Federation (HBF) said RIBA failed to take into account restrictions in the planning process.
RIBA's research was based on the 96 sq m (1033 sq ft) London Plan space standards, which were introduced in the capital in 2011. There are currently no UK-wide standards.
Its report shows the average size of a new house across the rest of the UK is 8 sq m (86 sq ft) below the London standards.
RIBA said the research was not clear as to why new homes in Yorkshire were, on average, even smaller than that.
'Overwhelmingly happy'
John Orrell, chair of RIBA Yorkshire Regional Council, said: "It is difficult to accept why families in our region have to settle for less.
"Factors that may influence the size and affordability of new homes, such as land values and planning restrictions are equally onerous, if not more so, in many other regions of the country."
The construction industry's trade body the Home Builders Federation (HBF) said RIBA's report was "disappointing"
In a statement, the HBF said: "RIBA's report publishes statistics in a vacuum and fails to ask the right questions. The right answer is a new planning system.
"Despite the current housing crisis and incredible pressures on home builders on all of these issues, high customer satisfaction ratings demonstrate that new home buyers are overwhelmingly happy with the product home builders provide and new homes are cheaper to run, warmer and greener."