West Midlands Police forensic scene investigators tweet for a day
9 May 2012

From the section

England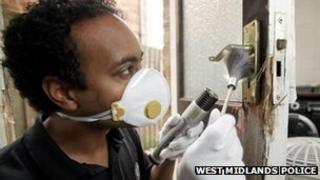 Forensic scene investigators (FSIs) from West Midlands Police are tweeting live from crime scenes for a day.
The "tweet-a-thon" began at 07:00 BST and will provide an insight into the world of forensic science.
It follows a similar event last year with the central Birmingham police Twitter account.
Police say no information will be shared that identifies victims or offenders, or negatively impacts on future investigations or trials.
'Captivate followers'
One of the first tweets of the day at 08:59 BST was from forensic investigator Kevin Ramsay, who was at the scene of a suspected burglary in Winson Green, Birmingham.
The next update indicated that several electrical items had been stolen after a forced entry.
The FSI tweeted: "There are a number of items at the address for me to examine. Hoping to find some fingerprints using specialist powders and brushes."
He then went on to explain the technique behind searching for fingerprints using magnetic and aluminium brushes and powder.
Forensic scene manager Helen Evans said: "We hope that we can captivate followers with our tweets and share some of the specialist forensic work that is undertaken on a daily basis.
"Most people seem to think that the role is similar in nature to CSI or other American TV dramas, so hopefully we can dispel a few myths while also showing how varied and challenging the role can be."
The West Midlands Police Twitter account will also be sharing photographs of scientific equipment and advising the public on how to preserve vital evidence should they become a victim of crime.