Resurgent Labour enjoys its big party in Birmingham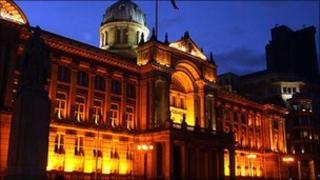 It was party time in Birmingham's imposing Council House last night.
As the night turned into the wee small hours of the morning, the atmosphere became more and more boisterous.
Labour activists were celebrating results which they hope send out a message that the tide is turning against Conservative-Liberal Democrat coalitions.
They hope the tide is flowing against not just the coalition that has governed Britain's biggest local authority for the past eight years but the others too, including the Cameron-Clegg combo at Westminster.
And it was particularly tough for the 'Progressive Partnership's' junior partners.
In one ward after another the 'third party' looked more like the fifth party, trailing in behind the Greens and UKIP.
Articulating policies
The outgoing Conservative council leader, the indefatigable Councillor Mike Whitby told me his main thought was for "the good colleagues who I have lost tonight".
I asked him if he felt he was carrying the can for his colleagues at Westminster.
"David", he told me (for that's what he calls the Prime Minister), "David will get the message that the Conservatives need to articulate their policies."
Labour's second biggest cheer of the night came when they captured Bournville off the Conservatives, their fourth net gain which confirmed they were back in power for the first time since 2004.
But their biggest ovation came later, when they even captured the Vesey ward in traditionally Tory Sutton Coldfield, a seat which they had not held since 1945.
As the results unfolded I reminded viewers of BBC One's Vote 2012 that Ed Miliband had launched Labour's local election campaign in Birmingham, and he'd been back again a couple of days before polling.
"I wouldn't bet against the possibility that he'll be here again quite soon," I said.
And hey presto!
'Welcome back'
Six hours later, the next leader of Birmingham City Council, Sir Albert Bore, was standing outside that self-same Council House with a clearly delighted Mr Miliband, able at last to quell some of those leadership doubts.
"Ed, welcome back to Labour Birmingham," declared Sir Albert, to rapturous applause from hundreds of supporters.
All this, and a mayoral referendum too!
So we will certainly have plenty to talk about on this weekend's Sunday Politics from midday on Sunday, 6 May.
I hope you will be able to join me.
Follow me on Twitter: Patrick Burns BBC
· All the latest election results are available at bbc.co.uk/vote2012