West Midlands and Staffordshire police forces share services
2 May 2012

From the section

England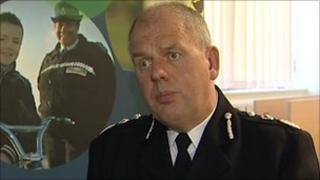 Two police forces are to share some specialist services under new plans that have been approved.
The Staffordshire and West Midlands forces will have joint dog handling, firearms, road policing, public order and vehicle recovery units.
The move will mean total savings of almost £2.5m, West Midlands Police Authority said.
The Staffordshire force wants to save £22m by 2013, and West Midlands aims to save £78m in the same time frame.
Last May, Staffordshire Police said nine police stations were to close with more than 250 officers losing their jobs.
Private companies
More than 1,000 West Midlands officers are to go from 8,000 serving officers.
The authority said on Wednesday that the two forces have been exploring a "collaboration" since last year and maintain the plans are not a merger.
The changes are to be implemented immediately with completion expected in September 2014 and the new operations unit led by one chief superintendent, the authority added.
A firearms range in Staffordshire will close as a result of the plans, saving £25,000.
West Midlands Police, along with Surrey Police, is also considering contracting out some elements of policing to private companies.
The plans, criticised by Unite and Unison and some MPs, pave the way for a "fundamental transformation of the way we do business", a West Midlands Police spokesman said.
They have so far received more than 260 responses from private companies.
Chris Jones, secretary of West Midlands Police Federation, said he backed the idea of the collaboration but feared it was leading to the future privatisation of the police.
"This collaboration is not anything new as Central Motorway Police Group, made up of West Midlands, Staffordshire and West Mercia Police, has been working together for a while and that has been immensely successful.
"Overall, it's a good idea and it works.
"But, in the future, while it's about efficiency, what we're not being told is that it's lining police up for privatisation.
"It's all about stripping out the staff and rebuilding departments in a fashion that would be easy to hand over to the private sector."