Cabled trial reveals confidence growing in electric cars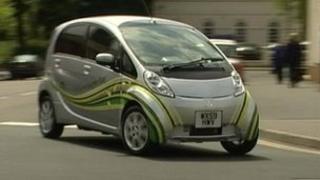 Organisers of a study into the use of electric cars in the West Midlands said confidence in the vehicles amongst drivers grew during the 27-month trial.
Coventry and Birmingham Low Emission Demonstrators (Cabled) consortium used 110 cars and drivers to clock up more than 640,000 miles over the period.
Results suggest longer journeys were made as the scheme wore on.
Researchers predict electric vehicles could make up as much as 10% of total global vehicle sales by 2020.
Cabled is one of eight projects that make up a £25 million government trial looking at low carbon vehicles.
Project leader Neil Butcher said the cars were practical for short journeys.
Mr Butcher said: "They're a perfect day-to-day runabout. Not everyone's going to be happy with an electric car because they've got a range of around 100 miles.
"They're quite expensive to buy but they're very cheap to run when you've got one."
Limited speed
The average charge time was shown to be between two to three hours at a cost of up to 80p.
Craig Pullen also took part in the trial and saved around £300 per month in fuel costs because he was able to charge his car at work.
Speaking about his experiences, Mr Pullen said: "It's almost exactly the same as driving a conventional automatic vehicle with the exception of it being fairly silent so there's no rev noises and it's limited to a top speed of 65mph.
"If I have to have the wipers and lights and heating on then that does have an effect on the range of the vehicle."