Vote 2012: Drawing up England's council boundaries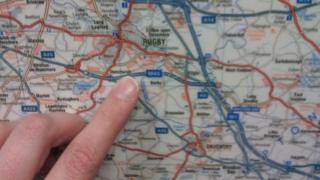 Across England 128 councils are preparing to hold local government elections on 3 May.
Most of the authorities will have a third or half of their seats up for grabs but for a handful all of their seats will be up for re-election because of ward boundary changes.
Six councils in England will see voters go to the polls for the first time following boundary reviews that have been held since they last had elections.
English local authority boundary reviews are conducted by the Local Government Boundary Commission for England (LGBCE).
Tim Bowden, review manager for the LGBCE, said: "We are responsible for ensuring councillors represent roughly the same number of electors in that area.
"To do this we monitor the electorate in a local authority and divide by the number of councillors."
The electorate divided by the number of councillors allows the commission to calculate the electoral ratio for that authority.
Reviews are held to compensate for ward population changes with boundaries being redrawn to maintain the balance.
But how will the boundary changes affect those councils that have undergone a review since their last election?
Rugby Borough Council
Sian Grzeszczyk, BBC Coventry & Warwickshire's political reporter, said of Rugby's changes: "After a review by the Boundary Commission, an all-out election will take place in Rugby this year on new boundaries to elect a new, reduced, 42-member council.
"It was decided that changes to the boundaries were required as the population in adjacent wards, even in the urban area of Rugby, had begun to vary considerably. The Boundary Commission worked with figures not only of the population today but of the projected figures for 2016.
"A decision was taken that the size of the council should be reduced from 48 members to 42 (this will mean that 22 is the target figure to achieve an overall majority). The commission has also reduced the number of wards from 20 to 16; this will make the overall picture less complicated in future years.
"Previously some wards had three councillors, some two and some only one, with elections scattered across the cycle. Under the new arrangements all wards will have three councillors - elected a third at a time, other than for this year when they will all be new - except for three rural wards which will have only one councillor each.
"Since this council came into being in 1973, the Conservatives are the only party ever to have had overall control, otherwise it has been under no overall control. It would seem that the two most likely outcomes are an overall Conservative majority or the Conservatives as the largest single party but short of the 22 seats required for overall control."
Swindon Borough Council
BBC Wiltshire's election reporter Dan O'Brien said: "This is a huge election for Swindon Borough Council. It's the biggest and most important the town has seen in 12 years.
"The reason - the boundaries of every single ward have been redrawn. So, rather than the usual third of seats being up for election, every single one is in play.
"There are now 57 seats in total, down from 59, so whichever party gets 29 will take control.
"Most wards have three councillors each and that means, rather unusually, most people get three votes rather than just the one.
"On paper, the changes make representation fairer, in the sense that they take account of population changes so each councillor now represents around the same number of people. But, from a political point of view, it's more complicated.
"Each of the three main parties initially objected to parts of the proposals, saying it would split communities. Or, to put it another way, it's meant some areas historically very Conservative have been attached to Labour strongholds, and vice versa."
Broxbourne Borough Council
Paul Scoins, BBC Three Counties Radio's political reporter, said new wards had been created in Broxbourne, in Hertfordshire.
He said: "In 2010 the Local Government Boundary Commission for England began to assess the size of Broxbourne Borough Council, which has resulted in a reduction of seats from 38 to 30 - 10 wards with three seats per ward.
"The commission felt there were 'high levels of electoral inequality'.
"Following consultation with local people, the council and the opposition Labour group, four amendments were made - the creation of a Goffs Oak ward, a Rosedale and Bury Green ward, a Flamstead End ward and the renaming of the Broxbourne ward to Broxbourne and Hoddesdon South ward, in recognition that part of it lies within Hoddesdon.
"There is also a slight redrawing of the boundary of the Cheshunt South and Theobalds and Waltham Cross wards.
"Broxbourne is a safe Conservative council, with the Tories holding 35 seats out of 38 - Labour hold the other three."
Daventry District Council
Willy Gilder, BBC Radio Northampton's political reporter, said a small reduction in seats in Daventry could lead to a big change.
He said: "Because of the boundary changes the number of wards in Daventry District has reduced from 38 to 36, with more multi-member wards.
"Until now, one-third of the council has been elected in three out of every four years which means there was virtually no chance of the council changing colour, given the Conservatives' overwhelming majority.
"Now, though, the whole council is up for election - and every ward is being contested. So, at least in theory, true blue Daventry could change colour."