Vote 2012: The people who make every vote count
24 April 2012

From the section

England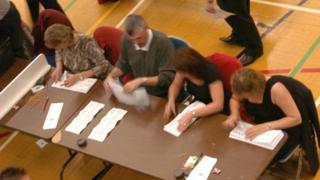 On 3 May voters across England will go to the polls in local elections.
While many people will take a few minutes out of their day to exercise their democratic rights, others will spend the whole day involved in the election process.
Volunteers and workers will be fulfilling a range of roles at polling stations, counts and in councils at 128 local authorities.
BBC News spoke to election workers in Oldham and Sunderland to find out more about the people who ensure every vote counts.
ELECTORAL SERVICE MANAGER
While temporary employees are recruited to work on the day of an election much goes on year round behind the scenes.
John Turner, chief executive of the Association of Electoral Administrators - the body which represents election professionals - said the role has changed as the demands placed on an electoral manager have increased.
The former electoral registration officer and returning officer for Norwich City Council said: "Years ago you could only do postal voting if you had a very good reason. Now anyone can register to vote by post so demand has gone up.
"There are also more elections and it's more complex; some councils elect a third of their seats at a time so you can end up with a different election every year."
Bill Crawford, head of electoral services at Sunderland City Council, has presided over eight general elections.
He said: "Election day and particularly the count has to be the most exhilarating part of any job in electoral services.
"The atmosphere and excitement generated by those watching us count pieces of paper is an experience that everyone should go through, as the high that the whole team feel at the end of the count is unbelievable."
COUNTING AGENT
Eve Langford worked at the count of the Oldham East and Saddleworth by-election in January last year.
The 25-year-old was living in Manchester where she worked as a waitress when a friend who worked at Oldham Council asked her if she wanted to be part of the count.
She said: "It was the first time I'd got involved. I had such a good time, I'd like to do it again.
"I'd always voted since I was old enough to, but now I take more of an interest in what's happening locally."
Habib Kadiri, 27, also helped count the votes at the Oldham by-election.
At the time he was a student doing a masters in political economy so he was interested in seeing the election process up close.
He said: "It was something I was interested in and I thought it would be fun to take part.
"On the night there was a lot of waiting around before we got to do the counting but it was enjoyable when you got the candidates coming in with their supporters and you saw the elections happening for the whole of Oldham in one place."
ELECTORAL SERVICES STAFF
In Sunderland staff are busy preparing for council elections.
Vikki Foggin helps sort out ballot packs so people can cast their vote by post.
She said: "The council has more than 87,000 people who have chosen to vote by post and one of the main responsibilities I have during election time is to make sure that everyone's postal vote details are sent to our printer so that postal ballot packs can be sent out in good time for people to complete and return.
"I enjoy the challenge of processing the returned postal ballot packs and the satisfaction of knowing how much work has gone into the preparation of this."
Stephen Davis worked on a results collation system which was used for elections in Sunderland and then adopted by the Electoral Commission across the whole of the UK for the AV referendum last year.
He said: "Like the rest of the team, I enjoy the buzz of election night where all of the hard work and preparation results in the returning officer declaring the elected candidates."
Margaret Howard spends the year adding new properties and making changes to existing properties on the electoral register.
She said: "I enjoy assisting electors knowing that what I've done to help often allows them to be able to cast their vote on election day."
RETURNING OFFICER
Dave Smith is the chief executive and returning officer at Sunderland City Council which means he is legally responsible for how an election is conducted.
Sunderland is something of an elections centre as its team also acts as a regional returning centre for the North East - they have covered the European elections, the regional assembly referendum and the AV referendum. Later this year the team will also count the votes in the police commissioner elections.
The council has a reputation for always declaring first - often hours before other authorities.
Declaring first is down to multiple factors, but Mr Smith believes the effort of election staff is one of the key elements.
He said: "The staff take pride in their work, they have a conscious desire to do it well and as a result they do it very well.
"They work quickly and accurately to show their respect for the people who've turned out to vote and the candidates - they want to do right by them."